Cabinet wants answers on Lee's case
MISSING: Beijing has yet to clarify where rights campaigner Lee Ming-che is being detained, what laws he has broken, and to arrange for his family and lawyer to visit
The government is also calling on Beijing to immediately arrange for Lee's family and lawyer to visit him, Hsu said.
In response to media reports that the government has been keeping a low-profile over the case, Hsu said the administration is keenly aware of Lee's disappearance and has continuously and actively been trying to contact Chinese authorities through various channels.
The DPP likewise said that it has been paying close attention to Lee's case and reiterated the demands calling for Lee's family and lawyer to visit China to protect Lee's rights and personal safety.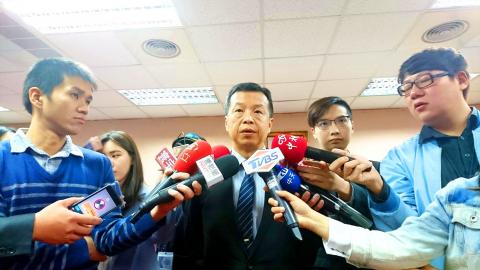 Ministry of National Defense spokesman Major General Chen Chung-chi, center, is surrounded by reporters at the Legislative Yuan in Taipei yesterday.
Photo: CNA
"Lee's case is not a one-off case, as there have been many similar cases since cross-strait exchanges were deregulated. Chinese authorities detaining Taiwanese in the name of national security will only deepen Taiwanese misgivings about visiting China for exchanges and have a negative influence on cross-strait stability and development," DPP spokesman Yang Chia-liang (楊家俍) said.
Asked about reports of possible links between Lee and the nation's Military Intelligence Bureau, Ministry of National Defense spokesman Major General Chen Chung-chi (陳中吉) said: "No, [I've] never heard of it."
Commenting on the government's low-key approach, Academia Sinica's Institute of Taiwan History associate research fellow Wu Rwei-ren (吳叡人) on Wednesday said that the government's "under-the-table" efforts so far correspond to President Tsai Ing-wen's (蔡英文) policy of maintaining an "extremely low-profile and exerting extreme self-restraint" to avoid antagonizing China.
"However, we have gone past that stage of keeping a low profile. It is time to take strategic steps and appeal to the global community to put pressure on Beijing," he said.
National Taiwan Normal University political science professor Fan Shih-ping (范世平) disagreed, saying the government should continue to maintain a low profile as Beijing has been closely monitoring Chinese rights advocates, because it considers "rights advocacy a more serious [threat to its rule] than Taiwanese independence [activities]."
Lee's case is not necessarily Beijing seeking revenge for the deterioration in cross-strait relations, but likely the Chinese Communist Party's heightened sensitivity to internal security issues ahead of its 19th National Congress scheduled for later this year, Fan said.
Comments will be moderated. Keep comments relevant to the article. Remarks containing abusive and obscene language, personal attacks of any kind or promotion will be removed and the user banned. Final decision will be at the discretion of the Taipei Times.