NTUT, MIT sign 'smart' development agreement
The National Taipei University of Technology (NTUT) yesterday signed an agreement with the Massachusetts Institute of Technology (MIT) to set up a "City Science Lab" to focus on the development of "smart" city infrastructure and autonomous vehicles.
MIT City Science Initiative director Kent Larson signed the agreement with NTUT president Li Wen-lung (黎文龍) in Taipei, the first time that the US institute has signed an agreement with a Taiwanese university.
With the growing prevalence of applications associated with the Internet of Things, "smart" city infrastructure plays a key role in industrial development and autonomous vehicles, which involve the development of human-centered concepts, a major indicator of how developed a "smart" city is, Li said at the ceremony.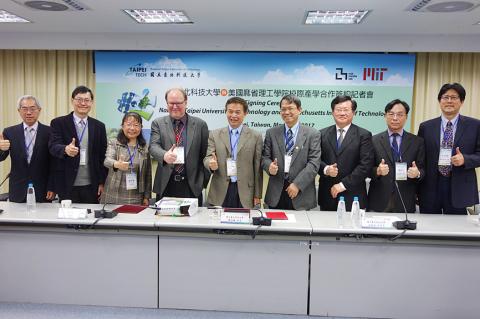 Representatives from National Taipei University of Technology and the Massachusetts Institute of Technology's Media Lab yesterday pose in Taipei after they announced the establishment of a joint research center.
Photo: Courtesy of National Taipei University of Technology
Li said he hopes the strong research capacity of the two institutes, coupled with the multitude of technology firms set up by the universities' alumni would provide the collaboration a solid basis.
NTUT is to send six students to programs at the MIT Media Lab each year to acquire knowledge on "smart" city infrastructure, with each program to last for at least two months, Li said.
Lecturers will also be able to use the opportunities to engage in exchanges with MIT counterparts, he said.
Michael Lin (林家樑), a Taiwanese doctoral student who is also a research assistant at the MIT Media Lab said that the two institutes are like-minded, as they both value the idea of "learning by doing," while the Taipei university has earned its reputation by putting its beliefs into practice.
The two universities plan to embark on projects to improve transportation and housing, Lin said.
The MIT City Science Initiative aims to develop autonomous vehicles that operate like Uber, he said.
It hopes to analyze "big data" regarding commuters' behavior to create an improved public bicycle system that would save operators the trouble of transporting bicycles from one location to another, he said.
It hopes to provide residents with space-saving homes that include "movable" furniture, Lin said.
He said that he hopes the partnership would serve as a gateway that links MIT to Taiwan's business sectors, thereby motivating small and medium-sized enterprises to submit innovative ideas to the Taipei institute, through which MIT could engage in reciprocal and mutually beneficial research projects with Taiwanese firms.
Comments will be moderated. Keep comments relevant to the article. Remarks containing abusive and obscene language, personal attacks of any kind or promotion will be removed and the user banned. Final decision will be at the discretion of the Taipei Times.