Most Taiwanese see China as hostile to Taiwan: poll
Nearly 80 percent of Taiwanese regard Beijing as being hostile to Taiwan since President Tsai Ing-wen's (蔡英文) inauguration in May last year, a sentiment that appears to transcend political boundaries, according to a survey released by the Cross-Strait Policy Association yesterday.
The poll found that 77.2 percent of respondents think China has been unfriendly to Taiwan since Tsai was sworn in, of which 43.8 percent believe it is "extremely inimical."
A mere 15.3 percent of those polled considered Beijing as being amiable, while 7.5 percent declined to give an answer.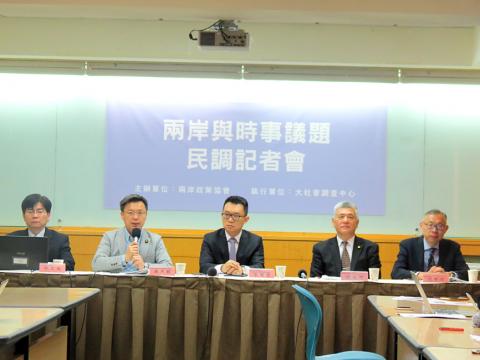 Members of the Cross-Strait Policy Association release the results of an opinion poll in Taipei yesterday.
Photo: courtesy of the Cross-Strait Policy Association
An analysis of the results showed that Beijing's hostile perception is shared by the public, regardless of their political affiliation, with 89.2 percent, 71.8 percent and 63.7 percent of respondents who identified themselves as pan-green supporters, pan-blue sympathizers and nonpartisan feeling that way respectively.
Conversely, 43.3 percent of respondents said that Tsai has demonstrated "just the right amount" of goodwill toward Beijing, followed by 38.1 percent who think she has shown "too little," 10.1 percent who declined to answer and 8.5 percent who believe she has shown "too much."
Responses to this question are closely related to respondents' political inclinations, although those who identified as nonpartisan were divided between "too little" at 38.7 percent and "just the right amount" at 35.2 percent, the association said.
However, nearly 70 percent of those polled expressed support for Tsai's cross-strait policy, which is centered on her pledge to maintain the "status quo" across the Taiwan Strait and forge a relationship with Beijing that is "consistent, predictable and sustainable," while 24 percent were against the policy.
As for Beijing setting Tsai's acknowledgement of the so-called "1992 consensus" as a nonnegotiable precondition for cross-strait exchanges, 67.8 percent of respondents said that it is unacceptable, while 25.3 percent felt otherwise.
Beijing has imposed a number of punitive measures against Taipei over the Tsai administration's refusal to accept the "1992 consensus," including the suspension of cross-strait dialogue and a cut to the number of Chinese tourists to Taiwan.
Few improvements in cross-strait ties have been seen, despite the president's repeated reassurances that her government would not renege on its promise to maintain the "status quo."
The "1992 consensus" refers to a tacit understanding between the Chinese Nationalist Party (KMT) and the Chinese government that both sides acknowledge that there is "one China," with each side having its own interpretation of what "China" means. Former Mainland Affairs Council chairman Su Chi (蘇起) in 2006 admitted that he made the term up in 2000.
On domestic issues, 74.6 percent of respondents said that the Cabinet's eight-year "Forward-looking Infrastructure Construction Project" is conducive to the nation's development and economic growth, while 19.6 percent expressed opposition.
The initiative, unveiled earlier this month, calls for the government to spend NT$880 billion (US$29.1 billion) to improve five aspects of the nation's economy: "green" energy, water resources, railways, digital infrastructure and urban and rural development.
The telephone-based survey collected 1,086 valid samples from Taiwanese aged 20 or older on Monday and Tuesday. It has a confidence level of 95 percent and a margin of error of 2.97 percentage points.
Comments will be moderated. Keep comments relevant to the article. Remarks containing abusive and obscene language, personal attacks of any kind or promotion will be removed and the user banned. Final decision will be at the discretion of the Taipei Times.