INTERVIEW: 'Hard won academic integrity must be defended'
Former Shih Hsin University president Lai Ting-ming said in a recent interview with Jennifer Huang, a reporter for the Chinese-language 'Liberty Times' (sister newspaper of the 'Taipei Times'), that the recent 'letters of agreement' scandal involving local universities showed the lack of integrity and honor in Taiwanese higher education
Liberty Times (LT): During your term, you signed agreements of academic exchange with Chinese schools. Have you encountered incidences where Chinese institutions or students demanded letters of agreement or other pledges to control the curriculum?
Lai Ting-ming (賴鼎銘): I signed academic exchange agreements with Chinese institutions. While I understand certain schools, student associations or parent associations might have reservations about Taiwan's democratic society or sensitive political subjects, I have never encountered any institution that demanded agreements of that kind. On the other hand, the very best Chinese universities tended to have fewer reservations and made fewer demands.
It is likely the difference between degree-seeking students and research students played a role.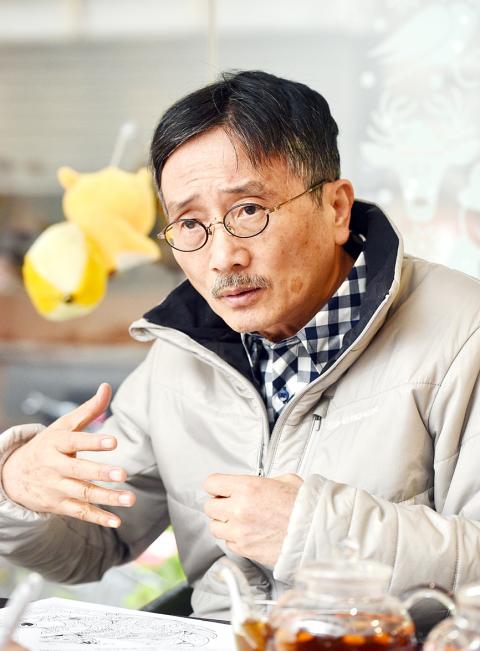 Former Shih Hsin University president Lai Ting-ming gestures during an interview with the Liberty Times in Taipei on March 8.
Photo: Peter Lo, Taipei Times
Degree-seeking students are a minority in Taiwan — those who picked a university department to apply to on their own. As a result, they would know about — and indeed expect — certain things from their education in Taiwan. The Chinese government and Chinese universities exercise relatively little control with regard to those students.
However, research students are usually in Taiwan for between six months and a year, and they typically come as a group or attached to some program between schools. They are more numerous, but also tend to be uneven in quality.
Naturally, as more Chinese students come to Taiwan, their exposure to Taiwanese democracy would give pause to those concerned in China, leading to additional demands for accommodation.
However, news that our universities had signed written agreements to avoid discussions of specific political subjects, such as "one China, one Taiwan" was surprising to me.
The Ministry of Education should make a full investigation. We need to know whether such demands were made by a few Chinese institutions acting on their own, or a majority of Chinese institutions had decided to do so collectively.
We also need to know whether a minority of our nation's institutions issued such letters as an act of rashness, or a large number of schools had promised to avoid certain subjects in their curricula to facilitate the enrollment of Chinese students.
If this was an issue involving only a minority of schools, we can demand that they change their behavior. However, if a large number of institutions are involved, then the government and universities will need to treat the political implications and pressures those demands represent as a serious problem.
A common guideline and a standard of conduct will need to be made in response.
LT: Are there any international precedents for schools or students from one nation demanding similar guarantees in a written document to restrict educational content?
Lai: In my youth, during the Martial Law era, I studied abroad on a public grant given by the Ministry of Education. At the time, Taiwanese intelligence services were embroiled in a scandal for employing members of a criminal organization to assassinate author Chiang Nan (江南) [Henry Liu (劉宜良)] in the US, who was a US citizen of Chinese descent, resulting in extremely tense Taiwan-US relations.
Yet, was there ever any question that the ministry or the [then-ruling] Chinese Nationalist Party (KMT) could write letters to US universities demanding them not to discuss Chiang Nan's assassination?
Had any Taiwanese institution or students made such a demand, no university in the US or any other nation would have bothered to dignify it with a response. It is far more likely that such a demand would be treated with derision and mockery.
It is not surprising that in this instance, parties in China would make "special requests" with reference to politically sensitive subjects, but I do not think any school or student from the US, Europe, Japan, South Korea or other countries would be so brazen as to demand such guarantees in writing.
The most troubling question that we must ask is, why were Taiwanese universities so compliant? Why would they write such unheard-of letters of agreement?
Taiwan has experienced authoritarian rule and martial law. A free and democratic society was created after great tribulations. We should have more regard and appreciation for our academic freedoms that arose from our hard-won experience and is Taiwan's greatest advantage over China and other nations.
If Taiwanese universities can so easily abandon their basic principles, they have surrendered their academic values and inherent advantages, and made us a target of international mockery.
LT: Some Taiwanese universities allege that Chinese institutions had made similar demands during former president Ma Ying-jeou's (馬英九) administration, and such demands from Chinese schools and students have become only more incessant. It is further alleged that some letters of agreement were written and signed by school administrators without meeting or consulting with their faculties — and sometimes written by their admission offices. What are the implications of those actions to academic freedom?
Lai: A university's essential spirit or educational characteristics are defined by its faculty's expression of ideas and the design of its classes. The autonomy of instructors and their freedom to educate is the cornerstone of higher education.
A recent joint statement — issued by five major associations of public and private universities — says the leaked letters were merely internal pledges to keep foreign students from "participating in political subjects," and do not represent the consensus of Taiwanese higher education. That view should be considered as representative of a small minority of school administrators.
If a university promised to refrain from mentioning "one China, one Taiwan" in classes, can it discuss the [so-called] "1992 consensus"? Can it teach "one China"?
Taiwanese universities have misunderstood the meaning of "the separation of politics and academics." What the expression means is that academic research should be insulated from the interference of state power and government officials, not writing off politics as a subject of academic inquiry and education.
By issuing letters of agreement in compliance to unilateral demands from China, the administrators of these universities restricted academic inquiry in Taiwan and harmed the intellectual autonomy of Taiwanese universities.
LT: A low birth rate has led to reduced enrollment at the nation's universities. Is enrolling Chinese students a silver bullet? The statement issued by the five associations of higher education said the letters were designed to keep Chinese and foreign students out of politics while it allows interfacing with international higher education. What do you think?
Lai: It is hard for me to conceive any student or institution from the US, Europe, Japan, South Korea or any nation in Southeast Asia would want, or would have the temerity to ask, a Taiwanese professor to make written guarantees that certain topics would be avoided in their coursework or curriculum.
Taiwan has more than 100 institutions of higher education and it is a fact that the pool of prospective [local] students is inadequate to support them. However, the main challenge for Taiwanese universities is that they lack international perspective and their English-instructed classes are not of a sufficient quality.
As a result, they have developed a bias toward recruiting Chinese-speaking students from China or overseas Chinese communities in other countries, which saves them effort and money. Even with the government's new "southbound policy" focus on Southeast Asia, the bulk of international students enrolled are still ethnically Chinese.
We can see that Taiwanese universities' admission office have treated Chinese-speaking international students as pacifiers for their psychological comfort and have grown dependent on their enrolment. This is a structural problem that requires deliberate action from the government and the universities to modify.
Enrolling Chinese students in Taiwan has not helped those schools most in danger of being shuttered for lack of new students. Opening universities to Chinese students has resulted in the "Matthew effect" by concentrating them at a few schools, which made the rich schools richer and poor schools poorer.
For example, leading institutions such as National Taiwan University and National Tsin Hua University had allegedly issued letters of agreement. Do those universities actually need to lower their dignity just for a few students more? If the backbone of our higher education system is too bent to remain faithful to its most basic principles, is the next generation learning how to be bent from us?
Whether the ministry can invoke the Act Governing Relations Between the People of the Taiwan Area and the Mainland Area (兩岸人民關係條例) to discipline the universities involved in the letters is going to be a legally contentious question.
I have little desire to see the ministry meting out punishment to Taiwanese universities at the end of this incident.
What I would like to see is for the government to start guiding universities through their current difficulties, work toward elevating our international competitiveness and make our universities sustainable. I want our institutions to redeem their honor and their principles.
LT: Amid the brouhaha over the letters of agreement, there was also a report about a former Chinese student being accused of espionage in Taiwan. With political tensions mounting over the Taiwan Strait, what do you think are the steps needed to protect academic freedoms and democracy?
Lai: In my experience, most Chinese students in Taiwan are quite innocent and full of curiosity about Taiwan.
However, in light of the tense political situation, it is probably inevitable that there will be espionage and intelligence-gathering operations in Taiwanese academia.
Anyone who is observant can see that China uses every means available to it to develop social networks in Taiwan; whether it is in the realm of economics, academics or politics, the infiltration of political power cannot be avoided.
Fundamentally, I count myself a staunch supporter of cross-strait cultural and educational exchanges. I hope the recent incidents will not lead to the cessation or disruption of ongoing dialogues, and that the government can deal with recent events with the deliberate caution that they deserve.
However, I make this call on Taiwanese higher education. Taiwan has experienced authoritarian rule and martial law; we have built academic freedom and democratic education after great trials, and that experience won for Taiwanese academia is its most precious asset.
Taiwanese universities should keep in mind that they must never forget this fact.
In their conduct of academic exchange, they must remember there are things beyond the pale that they must never do. No profit is worth the Taiwan's national autonomy or the soul of higher education.
Translated by staff writer Jonathan Chin
Comments will be moderated. Keep comments relevant to the article. Remarks containing abusive and obscene language, personal attacks of any kind or promotion will be removed and the user banned. Final decision will be at the discretion of the Taipei Times.