Teachers, veterans protest over poster
'INAPPROPRIATE': Department of Information Services Director Kao Tsun said the content of a poster promoting pension reform was wrong and it would be abandoned
Members of teachers' unions yesterday joined retired military personnel in a march to the Executive Yuan in Taipei to protest pension reform promotional materials, condemning the use of the term "unjust" on a poster.
The poster depicts a child's hand touching an adult's hand, calling for pension reform "for the sake of children."
Dozens of National Federation of Teachers' Unions members and the retired military personnel — who have been camped outside the Legislative Yuan to protest pension reform — twice clashed with police while waiting for a government representative to hear their demands over the poster, which was approved by the Cabinet earlier this month and calls the pension system "unjust."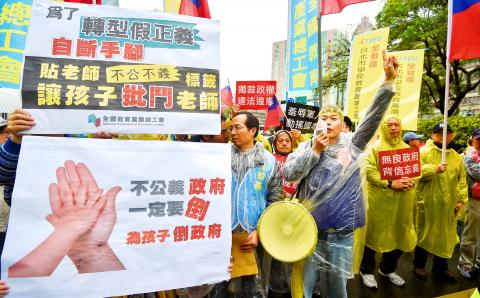 Members of the National Federation of Teachers' Unions protest outside the Executive Yuan in Taipei yesterday.
Photo: Fang Pin-chao, Taipei Times
"What we see is the Democratic Progressive Party continually seeking to vilify military personnel, civil servants and teachers on the issue of pensions, a campaign for which it has even enlisted government agencies and the education system," federation director-general Huang Yao-nan (黃耀南) said, adding that numerous ministries and schools had been instructed to distribute the poster electronically.
"If you want to push for pension reform, you can make your case, but there is no need to use the word 'unjust,'" he said.
"The government should be objective and stop portraying us as fat cats and the enemy," Huang added.
Retired general Yeh Yi-sheng (葉宜生) said that the government has cited a desire to correct its finances as motivation to enact pension reforms, but has proposed an NT$880 billion (US$28.86 billion) plan to build infrastructure.
The government has been reneging on its promises and alleging that civil servants, educators and military personnel have been growing fat from too much money, he said.
"They want us to face the brunt of difficult times together," Yeh said. "If that is the case, perhaps lawmakers, high-ranking officials and the president should 'face the difficult times together.'"
Federation member Lin Shuo-chieh (林碩杰) said the poster promised "false reforms and real oppression," adding that the distribution of such materials to schools was reminiscent of China's Cultural Revolution.
"The content of the poster was mistaken and inappropriate," said Department of Information Services Director Kao Tsun (高遵), who met with protesters outside of the Executive Yuan. "Negativity cannot achieve our aim of two-way communication. We will not use it in the future."
The department on Friday removed the poster from the Cabinet's official Web site and instructed other government agencies to take it down from their respective sites, he said.
Comments will be moderated. Keep comments relevant to the article. Remarks containing abusive and obscene language, personal attacks of any kind or promotion will be removed and the user banned. Final decision will be at the discretion of the Taipei Times.