Once-banned books now on display in Taichung
The Taichung Civil Affairs Bureau on Monday opened a special exhibition of 300 best-sellers that were banned by the former Chinese Nationalist Party (KMT) government.
The exhibition at the Taichung Literature Museum is as part of the city's human rights and culture festival, and features books from author Liao Wei-min's (廖為民) private collection.
Visitors can see well-known works, such as Jin Yong's (金庸) The Legend of Condor Heroes (射雕英雄傳), which is widely considered a classic of the martial arts genre and one of the greatest commercial successes in modern Chinese-language fiction. The book is displayed in "the ridiculously banned books" section.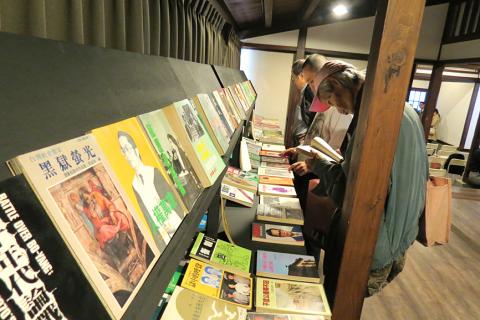 Visitors on Monday peruse an exhibition in Taichung sponsored by the Taichung Civil Affairs Bureau featuring 300 books that were once banned by the former Chinese Nationalist Party (KMT) government.
Photo: Su Meng-chuan, Taipei Times
Exhibition organizer Chen Yan-pin (陳彥斌) said there is no agreed upon explanation for why Jin's historical fantasy was banned.
One hypothesis is that the title contains the word diao (鵰), a bird that also appeared in a line of late Chinese leader Mao Tze-tung's (毛澤東) poem about Genghis Khan; another is that because Jin's Hong Kong-based newspaper Ming Pao expressed views that offended KMT leaders at the time, Chen said.
Many books that touched on the political climate of the time were banned by censors, such as Long Live the Election (選舉萬歲), a story about civil unrest in Taoyuan in 1977 that was sparked by allegations of ballot-fixing, Chen said.
However, books were also banned because of the author's political engagements in person or by association, such as The History of Taiwanese Animals (台灣動物史話), which was banned because its author, Liu Feng-sung (劉峰松), was the husband of dissident-turned-politician Wong Chin-chu (翁金珠), Chen said.
"From a modern perspective, it might seem incredible that books like The Legend of Condor Heroes were banned, but the banning of Jin's book shows the absurdity of the authoritarian period's preoccupation with imprisoning the minds of Taiwanese," he said.
Liao, who worked for the Taichung Books and Journals Publishing Co and Humanity Magazine (人間雜誌), said censorship of literature started in 1978, when censors seized copies of Long Live the Election before they could be bound.
About a dozen titles were banned from circulation annually until 1987, when censorship was eased with the lifting of martial law, but it did not end until August 1992, when the Taiwan Garrison Command was disbanded, he said.
Liao said he voraciously bought banned books during the Martial Law era because he felt obliged to "keep the fire of Taiwanese thought" alive, and he often received "invitations to chat over tea or coffee" by the Taiwan Garrison Command as a result.
"We should treasure the rights and freedoms that we now enjoy," Liao said.
The exhibition is organized by subject, such as proscribed books or rare books, with a section dedicated to works edited or authored by democracy movement pioneer Deng Nan-jung (鄭南榕), who died after setting himself on fire on April 7, 1989.
The exhibition runs until April 16, organizers said.
Comments will be moderated. Keep comments relevant to the article. Remarks containing abusive and obscene language, personal attacks of any kind or promotion will be removed and the user banned. Final decision will be at the discretion of the Taipei Times.