No to new communique: Taipei
CONDITIONS: If the WHA again requested that Taiwan adhere to the 'one China' principle for participation in the meeting, the government is unlikely to accept
The government has told Washington that Taipei would oppose the signing of a fourth joint communique between the US and China, Minister of Foreign Affairs David Lee (李大維) said during a legislative session yesterday.
The ministry has conveyed its opinion that "any development in that direction [toward the signing of an additional US-China communique] would be inappropriate," Lee said in response to a question from Democratic Progressive Party (DPP) Legislator Tsai Shih-ying (蔡適應), at a meeting of the legislature's Foreign and National Defense Committee.
Many lawmakers at the meeting voiced concerns about a rumor that US President Donald Trump and Chinese President Xi Jinping (習近平) might sign a fourth joint communique during a meeting expected to take place in Florida some time next month.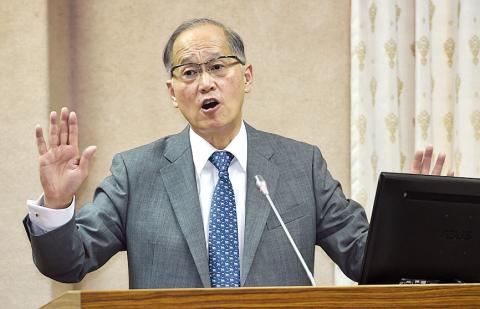 Minister of Foreign Affairs David Lee yesterday speaks at the Legislative Yuan, saying that Taipei has expressed its opposition to Washington about the potential signing of a fourth US-China communique.
Photo: Liu Hsin-de, Taipei Times
Although there are numerous potential outcomes to a Trump-Xi meeting, the government's view on a fourth joint communique has been clearly communicated to Washington through all available official and unofficial channels, Lee said.
Lee said the government is concerned with any potential changes to the US' "one China" policy and hopes Washington is "not going to take any retrograde action."
The government hopes that Trump will reaffirm the Taiwan Relations Act and the "six assurances," Lee said.
There are three US-China communiques — the Shanghai Communique in 1972, the Joint Communique of the United States of America and the People's Republic of China in 1979 and the Joint US-China Communique on Arms Sales issued on Aug. 17, 1982 — which together have come to be known as the Three Joint Communiques and have provided the basic framework for US-China ties since then-US president Richard Nixon's visit to China in 1972.
The "six assurances" are guidelines for the conduct of relations between the US and Taiwan that then-US president Ronald Reagan's administration agreed to in 1982.
They include pledges that the US would not set a date for ending arms sales to Taiwan and would refrain from mediating in Taiwan-China negotiations, among others.
Lee said that the government is unlikely to accept Beijing's "one China" principle if it is a precondition for participation in this year's World Health Assembly (WHA) .
DPP Legislator Chuang Ruei-hsiung (莊瑞雄) called on the government to exercise more initiative in demanding a WHA invitation.
However, Lee replied that such actions might jeopardize Taiwan's chance of being invited, saying that "hitting a rock with an egg does not accomplish anything."
On the sidelines of the legislative session, Lee said that he is not authorized to make decisions about Taipei's position on WHA, and the government would respond to such invitations only after discussing it at the Cabinet level.
Lee said his comments should not be taken as a definitive answer and the ministry would develop response strategies if Taiwan does not receive an invitation by the end of next month.
The WHA is scheduled to take place in Geneva, Switzerland, from May 22 through May 31.
In 2009, Taiwan began participating in the WHA as an observer under the name "Chinese Taipei."
However, possibly due to Chinese pressure, the WHO last year waited until two weeks before the meeting to send Taiwan and invitation, which had an unprecedented "one China" proviso attached.
Presidential Office spokesman Alex Huang (黃重諺) said that if Taiwan is not included in the WHA, it would create a hole in global disease prevention, adding that the nation has been a major contributor to the advancement of medicine and disease prevention policy worldwide.
Comments will be moderated. Keep comments relevant to the article. Remarks containing abusive and obscene language, personal attacks of any kind or promotion will be removed and the user banned. Final decision will be at the discretion of the Taipei Times.