New US-China communique 'unlikely'
DIFFERENT NEEDS: Project 2049 Institute director Randy Schriver dismissed the idea of Taiwan getting a Terminal High-Altitude Area Defense system like in South Korea
The chance of US President Donald Trump and Chinese President Xi Jinping (習近平) signing a fourth US-China communique when they meet next month is very unlikely, a former US Department of State official said yesterday in Taipei.
"The information I have is that there is no plan for a fourth communique, so I don't expect they will produce one in this meeting," former US deputy assistant secretary of state for East Asian and Pacific Affairs Randall Schriver said.
Schriver, who now serves as president of the Project 2049 Institute, a US think tank focusing on security issues in Asia, said that while he expects that Trump and Xi would talk about the US' "one China" policy during their meeting, the US president is likely to also underscore the importance of the Taiwan Relations Act (TRA) and the "six assurances."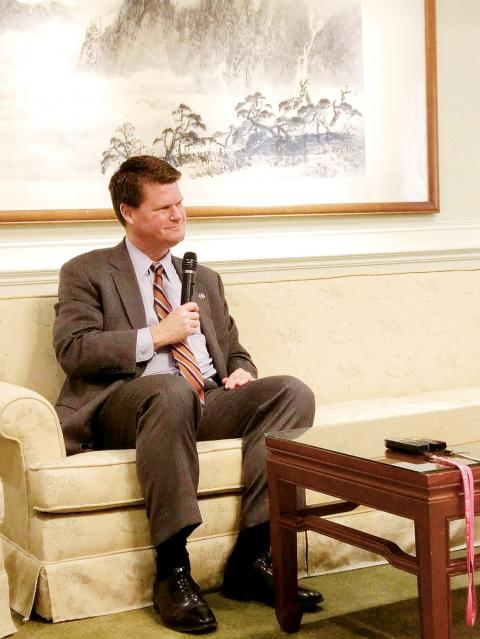 Former US deputy assistant secretary of state for East Asian and Pacific Affairs Randall Schriver, director of the Project 2049 Institute, speaks during an interview in Taipei yesterday.
Photo: Lu Yi-hsuan, Taipei Times
He also expressed the hope that any conclusions of the Trump-Xi meeting would include "all the right things" about Taiwan and Washington's important relationship with Taipei.
The three joint communiques — the Shanghai one of 1972, the one establishing diplomatic relations in 1978 and the one from 1982 — have provided the basic framework for Washington's relations with Beijing since then-US president Richard Nixon's historic visit to China in 1972.
The TRA came into force in 1979. Three years later, then-US president Ronald Reagan issued what were later known as the "six assurances" to ensure Taiwan that it would not be abandoned.
Turning to Taiwan's national security, Schriver said having watched closely the Chinese People's Liberation Army's (PLA) modernization, he believes the US should assist in making weapons more available to Taiwan to address its security needs.
However, Schriver dismissed the possibility of the US also deploying to Taiwan a Terminal High-Altitude Area Defense system (THAAD), a system that recently arrived in South Korea, angering China.
Saying he was not aware of such a plan, Schriver said that Taiwan faces different threats in terms of ballistic and cruise missiles compared with South Korean and US forces in South Korea or Japan.
"I am not a technical expert, but I don't know that THAAD would even be the appropriate system for Taiwan and Taiwan security needs," Schriver said.
However, there is a need to think about strong missile defense and protection for Taiwan given the missile threats it faces, he said.
Presidential Office spokesman Sidney Lin (林鶴明) said the government will closely watch any developments regarding the Trump-Xi meeting, adding: "The US is Taiwan's most important ally… As a member of the international community, we will continue to develop a stronger partnership with Washington in the hope of jointly contributing to regional peace, stability and welfare."
Comments will be moderated. Keep comments relevant to the article. Remarks containing abusive and obscene language, personal attacks of any kind or promotion will be removed and the user banned. Final decision will be at the discretion of the Taipei Times.