Lawmakers call for measures to help migrant workers
IGNORED: Employment brokers are required to help in case a foreign worker falls seriously ill, but laws do not cover those who are fired from their jobs due to illness
Lawmakers yesterday said that the government must establish a mechanism to help migrant workers who have fallen seriously ill due to non-occupational diseases.
An Indonesian domestic caregiver named Shinta fell seriously ill after coming to Taiwan in 2014 and was paralyzed due to a disease in her spine, and has been hospitalized in Hsinchu since then, Chinese Nationalist Party (KMT) Legislator Apollo Chen (陳學聖) told a news conference.
Shinta's employer covered her medical expenses for the first six months and bought plane tickets for her aunt to visit her in hospital, Chen said, adding: "However, as their own family needed care as well, the employer terminated Shinta's job contract and hired another domestic caregiver."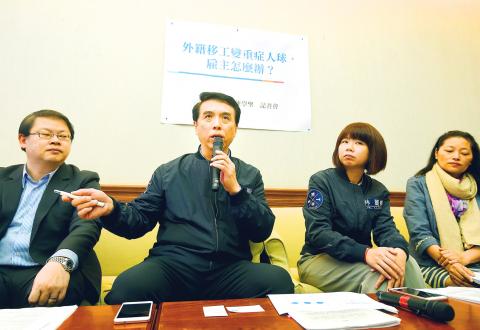 Chinese Nationalist Party (KMT) Legislator Apollo Chen, second left, speaks at a news conference in Taipei yesterday.
Photo: Fang Pin-chao, Taipei Times
Shinta's employer still visits her in hospital and her medical bills are "recorded to her account by the hospital," Chen added.
According to the Employment Service Act (就業服務法), contracts signed between employers and employment brokers to hire foreigners in "marine fishing/netting work, household assistance and nursing work and work in national major construction projects or economic/social development needs" require that the brokers help the employers send back the workers if they fall seriously ill or transport their remains and personal belongings should they die.
However, Chen said the law does not regulate cases where migrant workers lose their jobs as a result of a serious illness.
Migrant workers sustaining job-related injuries are covered by the Labor Standards Act (勞動基準法) and the Civil Code, which also apply to domestic caregivers and would have their employers shoulder the costs, Ministry of Labor official Chen Chang-bang (陳昌邦) said.
The ministry has an emergency fund to pay up to NT$100,000 in case a worker falls critically ill due to a non-occupational disease, Chen Chang-bang said, adding that the ministry in October last year paid Shinta the maximum amount.
"Migrant workers are enrolled in the National Health Insurance [NHI] upon their arrival in Taiwan," Chen Chang-bang said, adding that Shinta's insurance would not be canceled as long as she holds a valid residency certificate, but "her medical costs have exceeded the NHI's coverage."
Cambodia-born KMT Legislator Lin Li-chan (林麗嬋) said that the government must initiate a cross-ministerial discussion and transform the short-term fund into a long-term plan for the care of migrant workers, as it is not merely a "one-time case," but an issue that requires attention with the rising number of migrant workers in the nation.
There are more than 624,000 migrant workers in Taiwan, of whom 240,000 are domestic caregivers, according to the ministry.
Shinta's residency certificate is to expire on Monday and National Immigration Agency official Lee Ming-fang (李明芳) said the ministry is helping her extend her permit by two months in accordance with the regulations, adding that the extension can be repeated.
Chen Chang-bang said migrant workers with non-occupational illnesses would have to shoulder the medical costs if not stated otherwise in their employment contract, and their employers could ask for assistance from local governments if the workers are not able to do so.
"The representative offices of migrant workers' home nations could also be contacted for help," he added.
He said bilateral talks will be held this year with four nations that regularly send workers to Taiwan — Indonesia, Vietnam, Thailand and the Philippines.
"We will propose that they set up emergency funds or require migrant workers to enroll in insurance programs that cover critical illnesses," Chen Chang-bang said.
Comments will be moderated. Keep comments relevant to the article. Remarks containing abusive and obscene language, personal attacks of any kind or promotion will be removed and the user banned. Final decision will be at the discretion of the Taipei Times.