Government defends stance on security
TWO PROPOSALS: Premier Lin Chuan said that the Cabinet did not approve a draft, because there were concerns that it would be an overreach of government authority
Premier Lin Chuan (林全) yesterday reiterated that a draft national security and counterintelligence bill has not been approved by the Cabinet, while Minister of Justice Chiu Tai-san (邱太三) said the need for anti-infiltration measures should not be likened to authoritarian-era persecutions.
The proposal has sparked controversy over the authority it would give government agencies, prompting some to say it harkened to the White Terror era.
Media outlets on Thursday reported the full text of a Investigation Bureau draft, which would give counterintelligence agents with approval access to documents regarding people suspected of posing a threat to public security.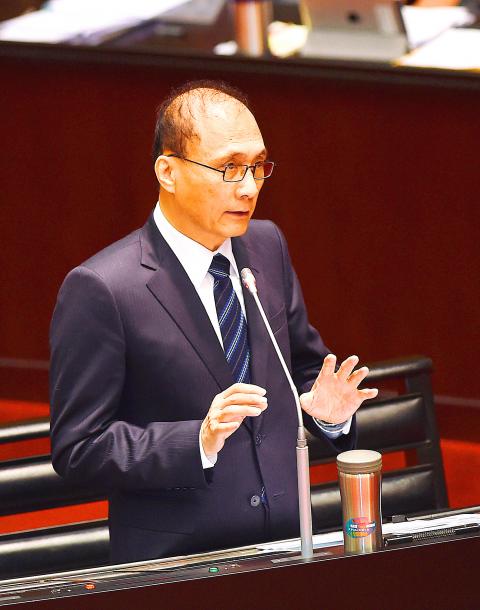 Premier Lin Chuan speaks during a question-and-answer session at the Legislative Yuan in Taipei yesterday.
Photo: Fang Pin-chao, Taipei Times
It also proposes that public security units be established at every level of government, representative offices and state-run enterprises that operate vital infrastructure.
The Chinese Nationalist Party (KMT) said President Tsai Ing-wen (蔡英文) should refrain from using a "two-faced strategy" by promising to safeguard human rights while doing the opposite by enacting the bill.
The draft act is designed to prevent Chinese spies from infiltrating the nation's agencies, but potential infringements of human rights outweigh its possible benefits, KMT Culture and Communications Committee deputy director Tang Te-ming (唐德明) said.
Lin said that the Executive Yuan did not approve the bureau's draft, because there were concerns that it would be an overreach of authority.
"The bureau sent two drafts to the Cabinet, but neither was accepted, so the text that was reported should not be taken as the government's stance on the issue," Lin said.
Cabinet spokesperson Hsu Kuo-yung (徐國勇) called the controversy a "non-starter," as the drafts had not even been discussed in the Cabinet, nor been read by the premier before they were rejected by ministers without portfolio.
Democratic Progressive Party Legislator Chiu Chih-wei (邱志偉) said during a legislative question-and-answer session that the threat of Chinese espionage has increased, so there is a need to upgrade counterintelligence capabilities, citing the case of a former Chinese student being detained on Thursday for suspected espionage.
Lin said there are "many indications showing that [China] has been taking [espionage] actions against us and we plan to re-examine our mechanisms, including those for public security and industry-linked secrecy protection."
Chiu Tai-san said that every nation has similar laws to protect national security.
"Article 2-1 of the National Security Act (國家安全法) stipulates that people are prohibited from engaging in activities that would harm national security, but establishing mechanisms and measures to that end requires the drafting of more regulations," he said.
"We have legislation that dictates how to deal with [espionage] and punish perpetrators only after the action has taken place, but we need more mechanisms to help with prevention, such as education and anti-infiltration exercises," he said, adding that the National Security Act does not have regulations governing counterintelligence measures at border control posts or military institutions.
"What we have now is merely an executive order on how to carry out counterintelligence tasks, which is not right, because it is only when the rules are clearly stated in law that well-defined parameters can be established to protect human rights," Chiu Tai-san said.
Accusations that the regulations would mean a return to authoritarian rule are wrong, he said. "The authoritarian regime used a non-institutionalized system and arbitrary measures to spy on people to perpetuate its one-party rule instead of public security."
Additional reporting by Stacy Hsu
Comments will be moderated. Keep comments relevant to the article. Remarks containing abusive and obscene language, personal attacks of any kind or promotion will be removed and the user banned. Final decision will be at the discretion of the Taipei Times.