Groups protest delineation plans
VETO RIGHTS: Groups have called on caucuses to take on their calls for Aboriginal communities to retain the right to refuse development of their traditional lands
Aboriginal assembly representatives protested outside the Legislative Yuan in Taipei yesterday over proposed guidelines for delineating Aboriginal communities' traditional lands.
About 20 campaigners from several Aboriginal communities called for the legislature to "send back the illegal plans" for violating the spirit of the Indigenous Peoples Basic Law (原住民族基本法).
"Because the Council of Indigenous Peoples has insisted on going its own way, we are here to meet with different caucuses to ask them to force a formal legislative review of the guidelines," Assembly of the Atayal Nation speaker Utux Lbak said.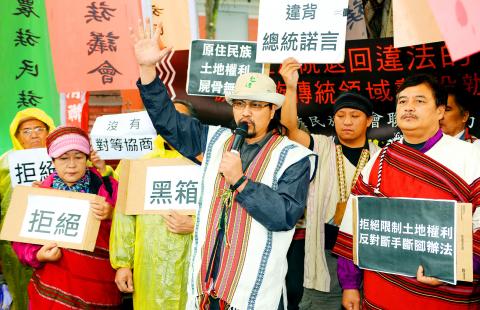 Representatives from Aboriginal assemblies yesterday protest in front of the Legislative Yuan in Taipei.
Photo: Lin Cheng-kung, Taipei Times
The guidelines announced by the council last month deny Aboriginal communities the right to delineate their own land. The traditional lands, once defined, would give Aboriginal communities veto rights over some development plans, but exclude privately owned land.
Thao leader Tahay Lhkatafatu said the guidelines represent a "death penalty" for his community, because of extensive private development in Nantou County.
"Even if we can expel government sponsored 'build-operate-transfer' projects from around Sun Moon Lake, what about all the private land?" he said.
Kadraluljan Village pre-emptively announced the extent of its traditional land claims in January as part of their fight to prevent a 5 hectare chicken farm from being built nearby, Paiwan Wuhua Paqaliyus said.
"If these plans exclude privately owned land, there is no way to know whether the 5 hectares will be developed or not," she said.
"How can you use the order to take away our rights by caging them in?" Paiwan Ljegay Rupeljengan said.
"The guidelines seem to be aimed at ensuring that private land is not concerned with Aboriginals' right of consent, allowing for substantial development in the name of economic growth," said Taiwan Indigenous Peoples' Policies Association president Oto Micyang, who is Amis.
"If the government does not have the power to address private land in traditional areas, why not change the guidelines to focus on publicly owned land and let us continue to fight private land issues during reviews of Aboriginal land and sea bills?" he said.
Comments will be moderated. Keep comments relevant to the article. Remarks containing abusive and obscene language, personal attacks of any kind or promotion will be removed and the user banned. Final decision will be at the discretion of the Taipei Times.