Taoist deities destroyed in truck fire on freeway
A cargo truck caught fire on the Sun Yat-sen Freeway (Freeway No. 1) near Changhua County yesterday, destroying more than 20 Taoist deity statues in the vehicle, officials said.
The truck driver, surnamed Liu (劉), and his wife escaped unharmed after jumping out of the truck after it caught fire.
Liu told police he was carrying Taoist gods and goddesses, palanquin chairs, musical instruments and other religious items. Most of the items were either badly burned or consumed by the blaze.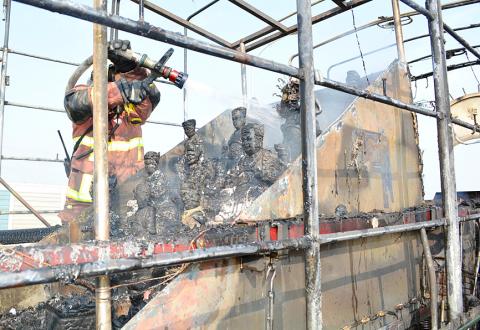 A firefighter yesterday extinguishes a fire on a truck carrying more than 20 Taoist deity statues on National Freeway No. 1 near Changhua County.
Photo: Tang Shih-ming, Taipei Times
"We were one vehicle in a convoy on a pilgrimage from New Taipei City to southern Taiwan," Liu said. "It happened so fast. We were driving on the freeway, then suddenly I saw heavy smoke coming out of the cargo bed."
"I pulled over onto the shoulder. My wife and I jumped off the truck and tried to extinguish the flames with fire extinguishers, but the fire was too fast and too strong. We could not stop it," Liu said.
Changhua County firefighters and police units rushed to the scene, joined by a road repair crew who were nearby. It took about 30 minutes for firefighters to control the blaze. Meanwhile, the truck was reduced to its chassis.
Liu and other people in the convoy said it was agonizing to watch the statues burn.
Many rituals and taboos are observed when master craftsmen select "sacred" wood to carve into statutes, which then are painted with meticulous attention.
A preliminary investigation indicates that the fire might have started because of accidental ignition of firecrackers onboard, or incense sticks burning in the truck cab, police said.
People should not burn incense while driving, and firecrackers should be in fireproof packaging and kept away from sources of heat, police said.
Comments will be moderated. Keep comments relevant to the article. Remarks containing abusive and obscene language, personal attacks of any kind or promotion will be removed and the user banned. Final decision will be at the discretion of the Taipei Times.