Airport MRT to officially launch today
COLOR CODED: Purple express trains stop only twice after departing Taipei Main Station before reaching the airport, while the regular service uses blue carriages
The Taoyuan International Airport MRT Line is to officially launch today following a one-month trial, with passengers to get a 50 percent discount on tickets for the first month.
Taoyuan Metro Corp statistics showed that approximately 1.27 million passengers accessed the airport line during the trial run.
Taoyuan Metro, which operates the line, said that the 50 percent discount would begin today and end on April 1.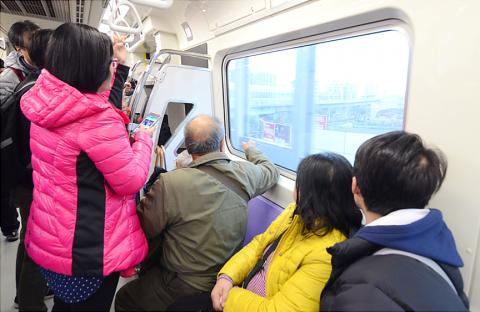 Passengers on the Taoyuan International Airport MRT Line yesterday look out a window on the last day of its trial period.
Photo: CNA
Based on the pricing scheme the company announced earlier this year, the base fare on the line is NT$30, with the most expensive ticket costing NT$160.
Every ticket sold would pay the same half-price fare during the deal, Taoyuan Metro said.
The line is to operate from 6am to 11pm daily, with nighttime hours reserved for maintenance.
However, Taoyuan Metro said it has asked the Ministry of Transportation and Communications about extending operating hours if operations go smoothly.
The system offers express services and regular services, with trains colored purple and blue respectively.
The express service has four passenger carriages and one luggage carriage and stops only at Taipei Main Station (A1), New Taipei Industrial Park Station (A3), Chang Gung Memorial Hospital Station (A8), Airport Terminal One Station (A12) and Airport Terminal Station (A13). The entire trip takes about 35 minutes.
The regular service makes stops at every station and takes about 70 minutes.
Among the 21 stations, Sanchong (A2) and New Taipei Industrial Park (A3) provide direct transfers to the Taipei MRT system.
The Taoyuan HSR Station (A18) connects to the high-speed rail system, allowing people traveling from central and southern Taiwan to transfer from a high-speed rail train to reach Taiwan Taoyuan International Airport.
The airport line offers in-town baggage check-in services for airline passengers and free Wi-Fi.
Comments will be moderated. Keep comments relevant to the article. Remarks containing abusive and obscene language, personal attacks of any kind or promotion will be removed and the user banned. Final decision will be at the discretion of the Taipei Times.