Ministry denies drills to salute Tsai
YOUNG SHARPSHOOTERS: The defense ministry said senior-high school students who perform well in firearms training will be eligible for special training from snipers
The Ministry of National Defense yesterday denied reports that it would make a military exercise scheduled in May a large-scale operation to mark the anniversary of President Tsai Ing-wen's (蔡英文) inauguration.
Plans for a large-scale military exercise in May as part of the annual Han Kuang exercises — including a missile test at a military base in Pingtung County — were to coincide with the anniversary of Tsai's inauguration and to raise public awareness of national defense, local media reported.
However, Minister of National Defense Feng Shih-kuan (馮世寬) denied that the ministry planned to expand the scope of exercises.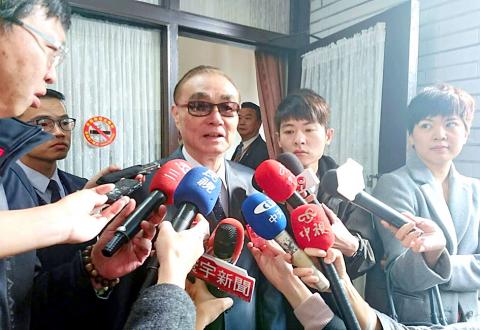 Minister of National Defense Feng Shih-kuan speaks to reporters in Taipei yesterday.
Photo: CNA
"The scope of the exercise will not be expanded," Feng said at a legislative session.
"To put it simply, this year's Han Kuang exercises are based on an examination of the exercises last year. We will make improvements," he said.
"The exercises have nothing to do with the anniversary," Feng said.
"This year's Han Kuang event is the 33rd and it will not serve any special purpose," he said.
The missile test is to be conducted in the second half of the year, like tests conducted in the past few years, Feng said.
The ministry is to stage a live-fire drill in May, but it said that does not constitute a large-scale operation.
The announcement of the May exercise came as a surprise.
The field operations at previous Han Kuang exercises were generally in August and were preceded by a computer simulation in April or May, while the ministry has been adjusting national defense strategies and redesigning military exercises, which was expected to move the exercises back.
The May event was scheduled following careful consideration, with the ministry taking into account the possibility of floods, which usually occur from July to September and could disrupt the exercises, ministry spokesman Major General Chen Chung-chi (陳中吉) said.
Meanwhile, the ministry is to allow senior-high school students who perform well in firearms training to receive special training from elite snipers next month.
Although sharpshooting is part of military training for high-school students, it is often excluded from the curriculum because it is not compulsory, the ministry said.
To encourage wider participation in military training, students who can hit a target 25m away with six out of six shots at a regular rifle training session are to be given 10 additional shots, it said.
Up to 60 students who display "excellent" shooting standards will be eligible for training from the army snipers at more distant targets of 175m and 300m, it said.
There is also to be a sharpshooting competition in November involving 22 teams made up of high-school students, the ministry said.
Comments will be moderated. Keep comments relevant to the article. Remarks containing abusive and obscene language, personal attacks of any kind or promotion will be removed and the user banned. Final decision will be at the discretion of the Taipei Times.