Legislators' visit to India prompts Chinese protest
LOOPHOLE: The group sought to kick-start efforts to enhance Taiwan's loose diplomatic and economic ties to India, triggering a protest from Beijing
China has lodged a diplomatic protest with India over a visit by a legislative delegation from Taiwan, the Chinese Ministry of Foreign Affairs said on Wednesday.
Three Taiwanese lawmakers, led by Democratic Progressive Party (DPP) Legislator Kuan Bi-ling (管碧玲), began their visit to New Delhi on Monday.
Chinese Ministry of Foreign Affairs spokesman Geng Shuang (耿爽) told a regular press briefing in Beijing that China had lodged "solemn representations" with the Indian government over the issue.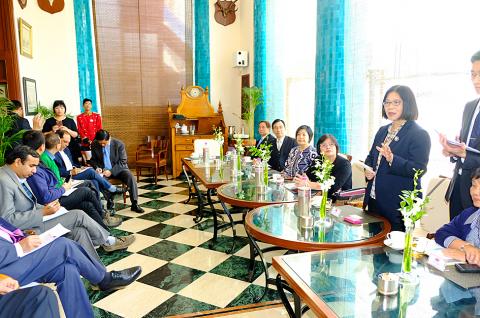 Democratic Progressive Party Legislator Kuan Bi-ling, right, standing, gestures during a news conference on Monday in New Delhi, India.
Photo: CNA
"We have always been resolutely opposed to any country with diplomatic relations with China having any form of official exchanges — or establishment of any official institutions — with Taiwan. This position is consistent and clear-cut," he said.
The Indian Ministry of External Affairs said the visit was informal.
"Such informal groups have visited India in the past as well for business, religious and tourist purposes. I understand that they do so to China as well. There is nothing new or unusual about such visits, and political meanings should not be read into them," the ministry said in a statement.
A DPP official in Taipei said the legislators, who were scheduled to return to Taiwan yesterday, were also in India to visit Taiwanese companies, such as China Steel, Taiwan's biggest steel maker, which has a plant there.
Despite efforts by China and India to improve ties over recent years, deep suspicions remain, especially over a festering border dispute.
Beijing has increasingly squeezed Taiwan's international space following President Tsai Ing-wen's (蔡英文) election last year.
A longstanding African ally of Taiwan's, San Tome and Principe, switched diplomatic recognition to Beijing in December last year.
"We have been requiring countries which have diplomatic relations with China to fulfill their commitment to the 'one China' principle," Geng said.
Kuan said on Facebook yesterday that while there is also a legislative delegation currently visiting the US and another one that just returned from Malaysia and, by coincidence, met the Malaysian minister of tourism and culture, "China targeted the delegation to India by lodging a high-profile diplomatic protest, despite having said nothing about Taiwan's other two visits."
She said Beijing's strong protest indicates that it does not want to see Taiwan strengthen its ties with India, which could be achieved with Taiwan's "new southbound policy."
"India has been a loophole in Taiwan's diplomacy, and an incredible one," for India is vital in maintaining Asia's regional security and has a huge market, Kuan said, adding that Taiwan's unfamiliarity with India has made exchange tenuous, and Taiwan should therefore be determined to correct the loophole when carrying out the new policy.
Separately yesterday, CS Huang (黃清山), chairman of Nan Liu Enterprise Co, the second-largest nonwoven fabric manufacturer in Asia, said that the company plans to build a factory in Gujarat state, hometown of Indian Prime Minister Narendra Modi.
While traveling with the trade delegation led by Kuan, Huang said that his company would invest US$20 million in the project and sees vast business potential in India.
He expects the factory to be completed in the latter half of next year, adding that once mass production starts, it could generate up to 1 billion rupees (US$14 million) in the first year and 6 billion rupees within the first five to six years.
Additional reporting by Alison Hsiao and CNA
Comments will be moderated. Keep comments relevant to the article. Remarks containing abusive and obscene language, personal attacks of any kind or promotion will be removed and the user banned. Final decision will be at the discretion of the Taipei Times.