Delegation meets US official, legislators
BILATERAL TIES: The lawmakers said that exchanges with their US peers showed that both sides hope for better cooperation on trade, the economy and security
A delegation from the Taiwan-USA Inter-Parliamentary Amity Association on Wednesday visited the US Department of State in Washington to meet Principal Deputy Assistant Secretary of East Asian and Pacific Affairs Susan Thornton.
Democratic Progressive Party (DPP) Legislator Wang Ding-yu (王定宇), one of the eight legislators in the delegation, said the meeting signified more stable Taiwan-US relations.
While Taiwanese legislators have visited the State Department individually before, it was the first time they were able to meet senior US officials as a group, Wang said on Wednesday night at the Twin Oaks Estate in Washington.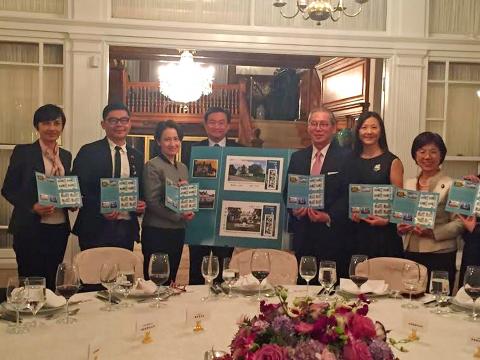 Democratic Progressive Party Legislator Hsiao Bi-khim, third left, Representative to the US Stanley Kao, third right, and other members of a delegation from the Taiwan-US Inter-Parliamentary Amity Association, on Wednesday in Washington unveil new Twin Oaks Estate stamps to mark the 80th anniversary of the mansion's former role as home to Republic of China ambassadors to the US.
Photo: Nadia Tsao, Taipei Times
US Secretary of State Rex Tillerson has not yet tapped an official to head the bureau, but there are signs that US President Donald Trump's government is leaning toward a continuation of policies enacted by former US president Barack Obama's administration in its second term by gradually changing some guiding principles, which restricted US actions, on certain policies for the potential normalization of relations with Taiwan.
DPP Legislator Hsiao Bi-khim (蕭美琴) said the delegation's visit focused on issues relating to finance and trade, national security and Taiwan's participation in global events.
Taiwan is especially concerned if Trump's Asia-Pacific financial policies would focus on bilateral accords, Hsiao said.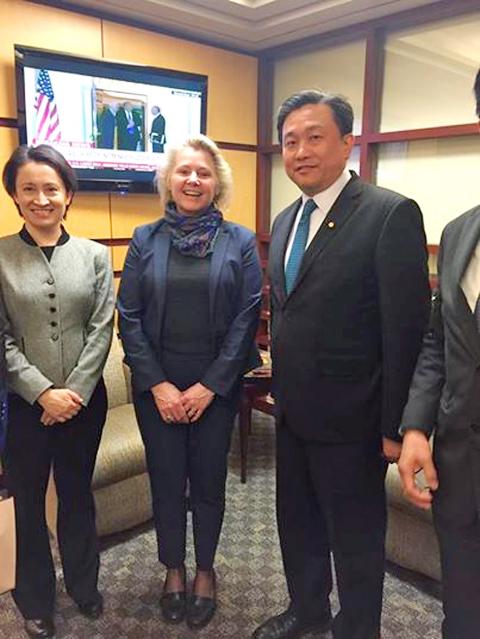 Democratic Progressive Party legislators Hsiao Bi-khim, left, and Wang Ding-yu, right, pose with US Principal Deputy Assistant Secretary for East Asian and Pacific Affairs Susan Thornton.
Photo from Wang Ding-yu's Facebook account
Although Trump's attitude toward international organizations and multilateral treaties appears to be far different from past US policies, Taiwan should endeavor to win the US' support for its participation in international events and organizations, she added.
As for Taiwan's participation in this year's World Health Assembly, Wang said the Taiwanese delegates had broached the subject with their US counterparts.
The US is concerned and would do its best, but Taiwan must rely on itself, Wang said, adding that while the US is supportive of Taiwan, it must prioritize its own national interests.
Chinese Nationalist Party (KMT) Legislator Johnny Chiang (江啟臣) said that Trump would want to do something different from his predecessor, and would prioritize US benefits and interests, but in the grand scheme of things, he would likely return to pursuing normal relations with a majority of countries.
DPP Legislator Yu Mei-nu (尤美女) said that some Washington hands, citing Japanese Prime Minister Shinzo Abe as an example, said Taiwan could learn from Tokyo by making its own propositions based on the nation's needs and interests, and should not passively wait for Trump to make a decision.
Earlier on Tuesday, Wang wrote on Facebook that the delegation met US Representative Ed Royce, Republican chairman of the House Committee on Foreign Affairs, and US Representative Ted Yoho, Republican chairman of the House Asia and Pacific Subcommittee, on the second day of their trip.
The delegation talked with the two congressmen on issues concerning ways to boost Taiwan-US links, Wang wrote.
The two US representatives gave positive feedback on Taiwan's hopes to be one of the first economies to begin talks with the Trump administration on bilateral trade relations, a proposed Taiwan Travel Act and Taiwan's bid for international participation, Wang wrote.
The delegation also met US Senator Ben Cardin, Democatic member of the Senate Committee on Foreign Relations, and two Republican senators, Steve Daines and Bill Cassidy, Wang said.
"The advantage of interacting with lawmakers is that we can talk about everything. We do not have to avoid sensitive issues," Chiang wrote on Facebook on Tuesday.
Chiang said they talked about the future of the US' "one China" policy; US trade strategies and Taiwan-US bilateral trade relations after Washington withdrew from the Trans-Pacific Partnership (TPP) last month; US arms sales to Taiwan; and Taiwan's pursuit of independence in national defense.
Chiang added that be it in the Senate or House of Representatives, a Republican or a Democrat, most US lawmakers expressed hope for closer cooperation between Taiwan and the US in the areas of trade, economy and security.
The US legislators believe that even without the TPP, Taiwan and the US can continue their trade and economic relationship through a one-on-one channel, he said.
Additional Reporting by CNA
Comments will be moderated. Keep comments relevant to the article. Remarks containing abusive and obscene language, personal attacks of any kind or promotion will be removed and the user banned. Final decision will be at the discretion of the Taipei Times.