Nangang redevelopment pact inked
REUSED Former warehouses belonging to Taipower are to be repurposed in an urban renewal project, creating an arts space, technology hub and public housing
The Taipei City Government and Taiwan Power Co (Taipower) on Tuesday inked a memorandum of understanding (MOU) to collaborate on the renovation of warehouses and a maintenance facility on land belonging to the state-run firm in Taipei's Nangang District (南港) into an incubator for the technology and art sectors and a public housing complex.
The urban renewal plan is to be carried out on two plots, coded "AR1" and "CR1," as part of Taipei Mayor Ko Wen-je's (柯文哲) East Gateway Initiative, which seeks to create industry clusters in biotechnology, cultural and creative, software and exhibition sectors.
The land had been designated for industrial use, but has been rezoned for commercial use.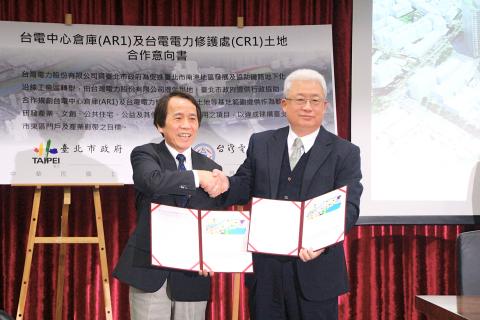 Taipei Deputy Mayor Charles Lin, left, and Taiwan Power Co chairman Chu Wen-chen, shake hands after signing a memorandum on urban renewal plans at a news conference at Taipei City Hall on Tuesday.
Photo: Chung Hung-liang, Taipei Times
The AR1 plot is 2.08 hectares, the Taipei Urban Regeneration Office said.
Three out of five Taipower warehouses are to be used as an "experimental arts center for performing arts" by the Taipei Department of Cultural Affairs, while two are to be used in the development of information and communication technology and, in compliance with a central government financial policy, house newly established think tanks for the Financial Regulatory Commission, Taipei Department of Economic Development Lin Chung-chieh (林崇傑) said.
A market to promote independent farmers' produce has also been planned, he said.
The warehouses to be used as the art center were built during the Japanese colonial era and have been designated as historic buildings by the Cultural Assets Review Committee, Taipei Department of Cultural Affairs Commissioner Chung Yung-feng (鍾永豐) said, adding that he hopes the economic development department can repurpose the buildings while preserving their aesthetics.
Taipei Deputy Mayor Charles Lin (林欽榮) said that AR1 and CR1 are close to Houshanpi and Kunyang Mass Rapid Transit stations.
Construction is scheduled to begin in 2019, he said.
Development in Nangang is likely to continue as the Taipei City Council is conducting preliminary planning for a proposed rail system connecting Xinyi (信義) and Wenshan (文山) districts, which, if confirmed, would pass through both plots of land, Lin said.
Nangang Railway Station became part of the high-speed rail system in July last year, significantly shortening the commuting time between Nangang and Hsinchu Science Park.
Taipower chairman Chu Wen-chen (朱文成) said that his company plans to invest NT$12 billion (US$390 million) in a "software park" on the CR1 plot, as part of the Ministry of Economic Affairs' stage-four Nangang Software Park plan.
He thanked the city government for allowing the company to retain 90 percent of its land on the 3.39 hectare plot during the rezoning process so that Taipower can implement development plans.
Comments will be moderated. Keep comments relevant to the article. Remarks containing abusive and obscene language, personal attacks of any kind or promotion will be removed and the user banned. Final decision will be at the discretion of the Taipei Times.