FEATURE: Lantern maker goes 'green'
WASTE NOT, WANT NOT: After retiring from the post office seven years ago, Lin Chow-chin returned to his first love — lanternmaking — but not disposable ones
As the nation lit up for the start of the Lantern Festival over the weekend, one eco-friendly craftsman is breaking with tradition.
Lantern maker Lin Chow-chin is part of a growing movement to make the celebrations "greener," creating sustainable lanterns which can be converted into anything from desk lamps to flower vases.
Each year, huge electric sculptures go on display in major cities, children carry tiny disposable lanterns and the skies fill with floating lights for the festival that marks the end of two weeks of Lunar New Year festivities.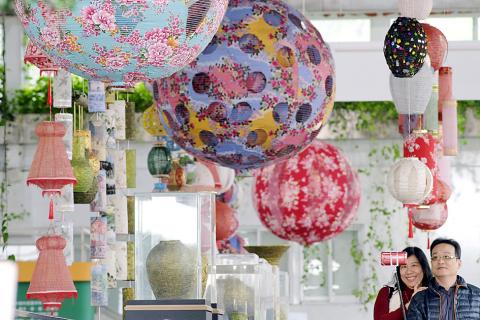 A couple takes a selfie under lanterns made by Lin Chow-chin in Yilan on Feb. 3.
Photo: Sam Yeh, AFP
Environmentalists say used lanterns are not properly recycled and pile up as garbage, while batteries inside them contain hazardous chemicals that cause pollution.
Lin hopes to help combat the problem by creating lanterns that owners would want to keep rather than discard.
He experimented with making them in his youth and considered exporting them as a business, but gave up the dream for a steady post office job. After retiring seven years ago, Lin reignited his passion — with a new twist.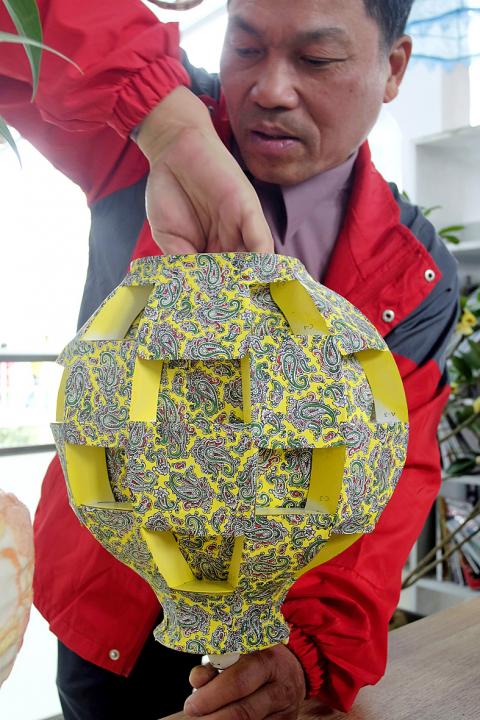 Lantern maker Lin Chow-chin holds up a creation in Yilan on Feb. 3.
Photo: Sam Yeh, AFP
"I do not want to see lantern making become a fading art, so hopefully the creative, environmental and practical aspects can appeal to more young people," he said.
Lin's colorful lanterns come in a range of shapes and sizes, some using recycled paper, leaves and plant fibers. His main aim is to make them reusable.
Lin has patented a removable plastic stopper that connects to a light bulb inside the lantern. When the bulb is taken out, users can connect the stopper to a water bottle and recycle the lantern as a vase.
Some of the lantern frames are made from self-assembled cardboard cut-outs, which Lin said are popular with students as they can be used as pen holders, and come with spare parts that can be modeled into sculptures or business card holders.
It is still a small business and Lin makes all the lanterns himself from home, selling about 800 a year by word of mouth.
However, interest in his art has seen him conduct workshops across the nation and stage exhibitions in Hong Kong and China.
"It is rewarding to see my students embrace my ideals and come up with their own creations," Lin said.
Campaigners say they do not want the lantern festival to disappear, just to improve.
Taiwan Environmental Protection Union vice chairman Liu Jih-jian (劉志堅) said the focus should be on the "content, not the size" of the celebrations.
The Tourism Bureau said the creations are being "adopted" after the festival, mostly by schools and local government departments.
Environmental authorities are also urging the public to recycle batteries used in small hand-held lanterns — last year they generated an estimated 3.79 tonnes of waste.
Comments will be moderated. Keep comments relevant to the article. Remarks containing abusive and obscene language, personal attacks of any kind or promotion will be removed and the user banned. Final decision will be at the discretion of the Taipei Times.