Annette Lu unveils referendum plans
Former vice president Annette Lu (呂秀蓮) announced plans to reduce social division along political and ethnic lines, while pushing for a date change of Youth Day in recognition of the Sunflower movement as part of her push for a referendum to make Taiwan a neutral country.
Lu is collecting signatures to launch a referendum in October on the issue of neutrality and announced a series of events to gain support for the initiative.
Rallies are to be held across Taiwan from April to July to boost support for the referendum initiative, with the aim of holding a vote in conjunction with mayoral elections next year to boost voter turnout.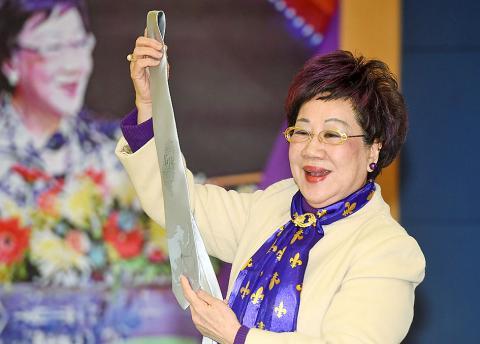 Former vice president Annette Lu at a news conference in Taipei yesterday holds a tie to promote a referendum to make Taiwan politically neutral.
Photo: Liao Chen-huei, Taipei Times
Lu called on the legislature to speed up amendments to the Referendum Act (公民投票法) to lower signature thresholds to enable a referendum, but added that a minimum threshold should be retained to prevent abuse of the system.
Commemorative events, including a motorcade in Taipei, are to be held at the end of this month to pay tribute to people affected by the 228 Incident in a bid to "close the wounds" of the massacre and ensuing conflicts along ethnic and political lines, Lu said.
A dance contest is to be held on March 18 to mark the Sunflower movement in 2014, during which protesters occupied the legislature's main chamber to protest what they called a hasty review of the cross-strait service trade pact.
"March 18 should be named Taiwan's Youth Day. March 29 [National Youth Day] is about revolutionaries of the Second Guangzhou Uprising, which is China's business," Lu said.
A forum is to be held on March 19 to re-examine the "319 shooting incident," an assassination attempt on former president Chen Shui-bian (陳水扁) and Lu in Tainan on March 19, 2004, one day before the presidential election.
A bullet grazed Chen's stomach and left a 13cm wound, while another bullet struck Lu in one knee.
While some pan-blue camp supporters have said that the shooting was staged to swing the election in Chen's favor, "the truth of the 319 incident must be made known, or it would continue to be a divisive issue that rips Taiwan apart," Lu said.
The government should establish an ad hoc body to probe the incident and issue a report to reduce social division and unite the nation toward a common goal, Lu said.
Comments will be moderated. Keep comments relevant to the article. Remarks containing abusive and obscene language, personal attacks of any kind or promotion will be removed and the user banned. Final decision will be at the discretion of the Taipei Times.