Hung, Hau criticize Cabinet reshuffle
'STOP FOOLING AROUND': The pair also criticized a proposal to remove the images of Sun Yat-sen and Chiang Kai-shek from banknotes, with Hung Hsiu-chu calling it 'psycho'
Chinese Nationalist Party (KMT) Chairwoman Hung Hsiu-chu (洪秀柱) and Vice Chairman Hau Lung-bin (郝龍斌) both questioned President Tsai Ing-wen's (蔡英文) new picks to head four ministries, particularly focusing on newly appointed Minister of Labor Lin Mei-chu (林美珠), who is Tsai's cousin.
It is not entirely inappropriate to "recommend someone from your own family" if they are a good fit for the job, but people should refrain from holding the KMT to a different standard, Hung said.
"If the same situation occurred when the KMT was in office, many would have been likely to ... lash out at the KMT," she said.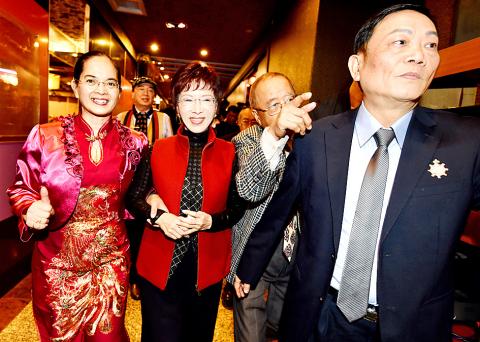 Chinese Nationalist Party (KMT) Chairwoman Hung Hsiu-chu, second left, attends meetings of the Taishan and Chongqing associations in Taipei yesterday.
Photo: Chien Jung-fong, Taipei Times
"Take [former president] Ma Ying-jeou (馬英九) as an example: After he took office, members of his family such as his elder sisters could not hold any [official] position. I hope [the public] holds the KMT to the same standard when the party takes office again," Hung said.
However, Hau, who is running for KMT chair in the May election alongside Hung, took issue with the pick, saying: "Nepotism is not good under any circumstances."
He also said he doubts that the public would expect much from the new Cabinet after a minor reshuffle.
"Changing Cabinet members could hardly solve any problems, which can only be achieved by making adjustments to the administration's attitude and mindset," Hau said.
The style of the reshuffle's announcement, made by a spokesperson at night, was "too simple and sloppy," as there were no explanations of why the picks were made or the new ministers' policy goals, he said.
There would be no end to the current controversies if the reshuffle is only meant to "replace old faces with some new ones," or to "divert the public's attention," he said.
"It remains to be seen whether the appointment of a cousin would solve the problems of low pay, reduced job opportunities and labor pension reform," Hau said.
The two also rebuked Democratic Progressive Party (DPP) Legislator Gao Jyh-peng (高志鵬) for proposing that images of Republic of China founder Sun Yat-sen (孫逸仙) and former president Chiang Kai-shek (蔣介石) be removed from banknotes.
DPP lawmakers should engage in "self-restraint" and "stop fooling around" at a time when the DPP administration is mired in controversy, Hau said.
"Redesigning the currency would not turn NT$1,000 into NT$2,000," he said.
Hung described the proposal as "psycho."
The DPP always turns to "ideological issues to arouse emotions and manufacture antagonism," which might be a tactic to divert attention from the government's incompetence, Hung said.
Separately yesterday, Premier Lin Chuan (林全) said the reshuffle was complete when asked whether there would be another round of personnel replacements.
However, some pro-localization groups were dissatisfied with the changes, saying they were not extensive enough.
Government officials should be more attentive to the public's concerns and needs to avoid the kind of public outcry sparked by the "one fixed day off and one rest day" policy, Northern Taiwan Society chairman Chang Yeh-sen (張葉森) said.
Chang picked out Minister of Foreign Affairs David Lee (李大維) and National Development Council Minister Chen Tain-jy (陳添枝) as figures that the groups consider too "old and blue" (politically affiliated with the KMT) and advised President Tsai Ing-wen's (蔡英文) administration to replace them.
The Cabinet has taken note of the groups' concerns and respects their opinions, Cabinet spokesman Hsu Kuo-yung (徐國勇) said.
The Cabinet announced later yesterday that Lin, contrary to what was first said on Friday, would not retain her position as minister without portfolio due to the scale of her responsibilities at the Ministry of Labor.
Additional reporting by Lee Hsin-fang and CNA
Comments will be moderated. Keep comments relevant to the article. Remarks containing abusive and obscene language, personal attacks of any kind or promotion will be removed and the user banned. Final decision will be at the discretion of the Taipei Times.