FEATURE: Classmates work to help Nepalese children
VOLUNTEER EFFORT: Several university students are headed to Nepal to work with the Calls Over Ridges project to educate elementary-school youngsters in Gorkha District
While most Taiwanese are celebrating the Lunar New Year with their families, a team of volunteers from a group known as Calls Over Ridges is heading out today for the Gorkha District of Nepal to help children affected by the massive 2015 earthquake that hit the nation.
National Taiwan University student Lin Tzu-chun (林子鈞), who has worked as a volunteer in Nepal teaching children English and crafts, and classmate Tsai Wan-ting (蔡宛庭) cofounded Calls Over Ridges in early 2015, just months before the earthquake hit in May that year.
Last year they helped students at an elementary school create two libraries out of storage sheds and taught them to read and write English.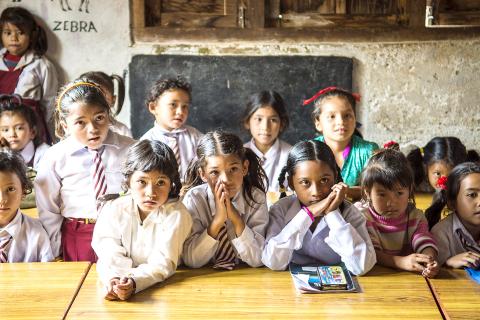 Schoolchildren in Gorkha District, Nepal, focus in a class in an undated photograph.
Photo courtesy of Calls over Ridges
This year they want to focus on ensuring the children have lasting access to education.
"The most crucial step to achieving this goal is to change parents' attitude toward education," Lin said.
"Children have to help with their parents' work after they get home from school, so it is very difficult for students to practice what they learn at school or what we teach them," Lin said.
Taiwan University student Tsai Wan-ting, center, leads fellow Calls Over Ridges volunteers in an activity with children in Nepal in an undated photograph.
Photo courtesy of Calls over Ridges
To help parents realize the importance of education, the team has planned a "parents' and children's classroom" program, where Nepalese university students, businesspeople, teachers and other professionals will be invited to give speeches to parents and children in remote villages every month.
The first "class" will feature a student who grew up in a financially disadvantaged family, but won admission to a university through hard work and financial assistance, Tsai said.
The team will work to establish more contacts to bolster its list of speakers, she said.
The team's Nepalese volunteers are in charge of scheduling the speeches, so the program will continue after the Taiwanese volunteers return home, she said.
As the team's target group mainly consists of fifth- and sixth-graders, the goal is to fund their education over five years so they would at least be able to finish their high school education, Lin said.
"High school is the important stage of a Nepalese education because professional subjects are taught at that level," Lin said. "However, 95 percent of pupils at the elementary school where we volunteer leave school in middle school."
The team held a fundraiser in Taiwan earlier this month and succeeded in pairing 93 sponsors with 93 Nepalese children, raising the number of children the group is working with to 144.
The sponsors have agreed to donate NT$600 (US$19) a month to "their" child, which means that at the end of the five-year program, the team will have raised more than NT$5 million, Lin said.
Instead of just giving the money to the children or their families, the team has opened a savings account for each recipient, depositing NT$200 of the monthly donation into each account as a "higher education fund," Tsai said.
"Although receiving NT$600 every month does not sound like much, it is more than enough for what they need for their education," Lin said. "However, when it is time for them to enter higher education, the amount might not be enough."
Lin says he wants to tell potential sponsors that they are funding young "dreamers," as there is a common hope among children in Gorkha to "leave this place and have a different life."
One of the "dreamers," named Anish, was a second-grader being raised just by his mother, Tsai said.
"After his home was destroyed in the earthquake, his mother, who performs odd jobs, could not afford to rent a house. They have been living in a tent in their neighbor's front yard through the summer heat and the winter chill," she said.
"When we first met him, he often fooled around with boys outside his school," she said. "After we started to subsidize him, Anish's grades improved remarkably, and he went from the last-placed student in class to the first."
Tsai said she found it amazing that Anish could study under such dire circumstances.
"His mother said that she felt sorry for him because Anish insisted on finishing his studies every day, even when it rained and there was no light in the tent," Tsai said.
"The children really cherish the photographs and clothes sent to them by their sponsors. They keep them in a safe place and show them to us every time we visit," Tsai said.
What seems like a small thing in a person's daily life in Taiwan can bring about considerable changes to the life of a Nepalese child.
"Knowing that someone is going to support their education for the next five years really changes the way the children look at themselves," Lin added. "The subsidies influence them in a subtle way. Even without a home and having to live in such poor conditions, they have become willing to give it a shot."
The team launched an online platform this month that enables sponsors and Nepalese children to share photos and leave messages to each other. It also records the children's height and weight and shows them in run charts, so that sponsors can keep track of their growth.
"We hope to let other groups that only offer short-term services use the platform for free, so that every person living in Taiwan who is interested in providing long-term help to the children, but who does not have time to visit them, can use the platform to keep in touch with them," Lin said.
Comments will be moderated. Keep comments relevant to the article. Remarks containing abusive and obscene language, personal attacks of any kind or promotion will be removed and the user banned. Final decision will be at the discretion of the Taipei Times.