People struggling with new labor laws: survey
'ILLOGICAL': The workweek rules should be amended to make their enforcement more flexible, so that employers and employees can find a happy balance, an ex-official said
The "one fixed day off, one flexible rest day" workweek, which took effect about one month ago, has had repercussions for employers and employees, survey results released yesterday by the Grassroots Influence Culture and Education Foundation indicated.
Of the survey's 1,102 valid samples, 50 percent of respondents said that their jobs had been affected by the new laws, while 42.7 percent said that their working conditions had not improved.
A majority of respondents, 63.7 percent, said that their employers have stopped asking them to work on their days off due to increased overtime rates mandated by the new rules, forcing them to accept an "indirect pay cut."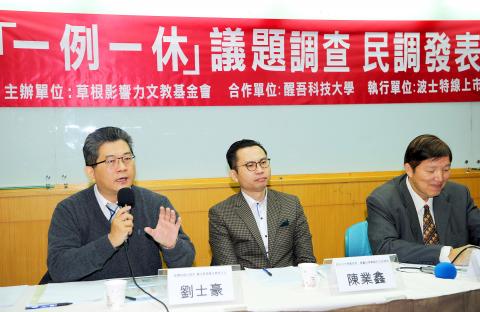 Ming Chuan University financial law professor Liu Shih-hau, left, and former Taipei labor commissioner Chen Yesin, yesterday explain the results of a survey on the effects of the "one fixed day off, one flexible rest day" workweek at a news conference in Taipei.
Photo: CNA
The more stringent rules on working hours have caused friction between employers and employees and created an "uneasy" atmosphere in the workplace, 68.1 percent of respondents said.
More than a quarter of respondents, 26.1 percent, said they received a lower year-end bonus because of the longer annual leaves employees are granted under the new workweek to compensate for seven canceled national holidays, with 18.1 percent saying that their bonuses were halved and 8 percent saying they were cut by a third, the survey found.
The cost of living has increased due to higher overtime pay, which was reflected in a general rise in the prices of food products commonly associated with the Lunar New Year, 78.2 percent of respondents said.
Meanwhile, experts attending a news conference on the impact of the changes said that the new laws are "too complicated," in particular the calculation of overtime fees, which is conducted through four sets of rates that apply to overtime on workdays, national holidays, fixed days off and flexible rest days.
Former Taipei Department of Labor commissioner Chen Yesin (陳業鑫) said that there is a flaw in the rules, in that people asked to work on national holidays are paid less than those who agree to work on their rest days, which he said was "illogical."
Chen called for more flexibility in the enforcement of rules on the workweek to be drafted by the Ministry of Labor, so that employers and employees can work out a schedule that is to their greatest mutual advantage.
He called on special provisions to be drafted to govern the schedules of workers in the service industry, those working in small and medium-sized enterprises and high-income workers due to the different natures of their work, so that a work schedule that is mutually agreeable to them and their employers can be established.
"For example, some workers at small enterprises are required to work overtime visiting potential clients, but are rewarded with handsome year-end bonuses… These people might seem routinely overworked, but does it necessarily mean that they have been exploited by their employers?" Chen asked.
Citing as an example Germany's workweek, under which people can work shorter hours on slow days and compensate employers later, Chen said that it might be a model worth referencing when the government drafts labor rules for small and medium-sized enterprises.
Regarding workers' complaints that they have been denied the opportunity to earn overtime pay, he said that workers' quality of life is in part determined by their disposable income, but a large majority of them have mortgages to pay, which often accounts for a huge proportion of their salaries.
The government should implement policies to levy income taxes on firms that have established branches overseas or depress house prices by imposing higher taxes on construction firms that hoard real estate to ease the financial burden on workers, he said.
The government should gain insight into the needs of different industries, Ming Chuan University financial law professor Liu Shih-hau (劉士豪) said, calling for finessed rules to be promulgated to replace the current ones that have been applied to all walks of life.
Comments will be moderated. Keep comments relevant to the article. Remarks containing abusive and obscene language, personal attacks of any kind or promotion will be removed and the user banned. Final decision will be at the discretion of the Taipei Times.