Taipei should butt out of US-China ties, call on Washington to stick to vows: Yu
Former premier Yu Shyi-kun on Wednesday said that Taiwan should not get involved in US-China relations and should instead ask Washington to stick to the 1979 Taiwan Relations Act and its "six assurances" to Taiwan.
"The 'one China' policy is the US' policy, not Taiwan's," Yu said at a news conference in Washington. "We expect the US to fully implement the Taiwan Relations Act and the 'six assurances.'"
He was responding to questions about a debate in the US about its "one China" policy as US president-elect Donald Trump prepares to take office later today.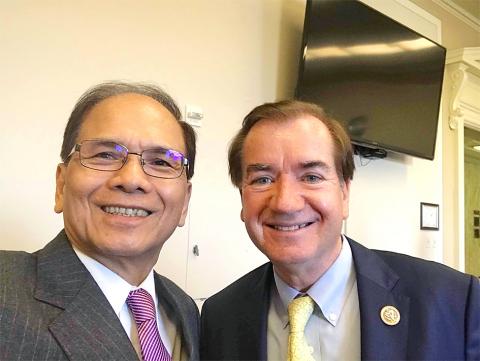 Former premier Yu Hsi-kun, left, and US Representative Ed Royce yesterday smile in a group selfie taken in Washington.
Photo: CNA
Yu also called on Beijing not to be "stingy" and to "act like a big country," in response to Chinese Ministry of Foreign Affairs spokeswoman Hua Chunying's (華春瑩) remarks on Wednesday urging "relevant parties in the US to allow no delegation sent by the Taiwan authority to attend the inauguration ceremony of the president, and not to have any official contact with Taiwan."
Yu arrived in Washington late on Tuesday at the head of Taiwan's delegation to the Trump inauguration.
The policy direction of the incoming Trump administration remains to be seen, even though President Tsai Ing-wen's (蔡英文) telephone call to Trump early last month was helpful to Taiwan's international profile, Yu said to reporters at Twin Oaks, the residence of former Republic of China ambassadors to the US until Jan. 1, 1979.
On that date, the administration of then-US president Jimmy Carter formally established diplomatic relations with the People's Republic of China and severed official ties with Taiwan.
The US Congress passed the Taiwan Relations Act in April that year to govern unofficial relations with Taiwan, including provisions that stipulate that the US should provide defensive weapons to Taiwan.
In 1982, then-US president Ronald Reagan conveyed the "six assurances" to Taiwan, promising not to set a date to end arms sales to Taiwan and not to force Taiwan to enter into negotiations with China, among other things.
Also on Wednesday, Yu and other members of the delegation called on members of Congress, including US representatives Ed Royce and Mo Brooks.
Yu's delegation consists of lawmakers and other politicians from major political parties, including Taichung Mayor Lin Chia-lung (林佳龍), Democratic Progressive Party Legislator Chen Ting-fei (陳亭妃), Chinese Nationalist Party (KMT) Legislator Ko Chih-en (柯志恩), New Power Party Legislator Freddy Lim (林昶佐) and People First Party Legislator Chen Yi-chieh (陳怡潔).
Comments will be moderated. Keep comments relevant to the article. Remarks containing abusive and obscene language, personal attacks of any kind or promotion will be removed and the user banned. Final decision will be at the discretion of the Taipei Times.