Former KMT vice chairman eyeing bid for top post
'ONE MORE CHOICE': The KMT is facing different challenges, amid the party's financial difficulties and worsening Taiwan-US-China ties, Steve Chan said
Former Chinese Nationalist Party (KMT) vice chairman Steve Chan (詹啟賢) yesterday said that both Beijing and Hon Hai Precision Industry chairman Terry Gou (郭台銘) had asked him about running in the KMT's chairpersonship election in May, adding that he would make a decision before the Lunar New Year.
Chan made the remarks during a morning interview with radio talk host Clara Chou (周玉蔻), in which he said he has gone from "passively" to "actively" considering throwing his hat into the ring after KMT Vice Chairman Hau Lung-bin (郝龍斌) and former vice president Wu Den-yih (吳敦義) announced their candidacies earlier this month.
"Shortly after I assumed the post as KMT vice chairman [in June last year], a lot of people started asking me if I wanted to vie for party chairman," Chan said.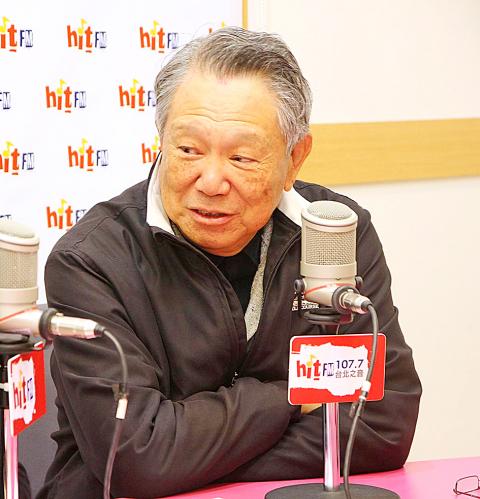 Former Chinese Nationalist Party (KMT) vice chairman Steve Chan speaks in an interview with radio talk host Clara Chou yesterday.
Photo: CNA
Chan said he normally smiled and shrugged it off when asked in private.
And when asked in public, he said his normal response was: "Hung Hsiu-chu (洪秀柱) is the chairperson and I am the vice chairman. The chairperson should be given priority in such a matter."
He added that officials from Beijing's Taiwan Affairs Office had also asked him about his intention and that his answer was the same.
Asked why he was reconsidering, Chang said it is because the race has become more competitive and the party is facing different challenges than before.
Chan said the criteria for the next KMT leader have changed given its financial predicament, its growing need to connect with the public and worsening Taiwan-US-China relations.
"That is why party members should be given one more choice," Chan said.
Chan tendered his resignation on Jan. 7, reportedly due to divisions between him and Hung over how to handle the KMT's illegally gained assets.
So far, four candidates have announced their bids for KMT chairperson: Hung, Hau, Wu and Taipei Agricultural Products Marketing Co general manager Han Kuo-yo (韓國瑜).
Asked about reports that Gou has thrown his support behind him, Chan said the business tycoon had asked him about the matter, but denied that they had met in person.
As all KMT chairperson hopefuls are required to collect signatures from at least 3 percent of all party members, Chan said it was not an easy task given his late start.
He added that if he chose not to run for the top leadership post, he would not campaign for any of the candidates.
Comments will be moderated. Keep comments relevant to the article. Remarks containing abusive and obscene language, personal attacks of any kind or promotion will be removed and the user banned. Final decision will be at the discretion of the Taipei Times.