Taiwan not bargaining chip: US ex-official
GETTING OVER CHINA: Evan Medeiros said Taiwan should address its over-reliance on China, either through new investments in Southeast Asia or more in the US and the EU
The US did not let Taiwan become a bargaining chip, former US National Security Council senior director for Asian affairs Evan Medeiros said in an interview in the US.
"We protected Taiwan and by protecting Taiwan it allows us to have enormous accomplishments," said Medeiros, who arrived in Taiwan on Wednesday and is to leave today.
The achievements of US President Barack Obama's administration regarding Taiwan-US relations will hopefully be taken to heart, especially in light of the difficult times facing the relationship due to changes introduced by President Tsai Ing-wen (蔡英文) and US president-elect Donald Trump, Medeiros said in an interview with the Liberty Times (the Taipei Times' sister paper).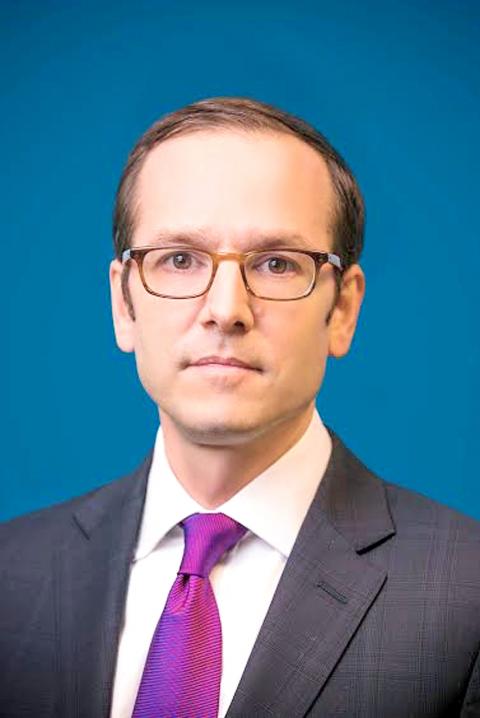 Former US National Security Council senior director for Asia Evan Medeiros is pictured in an undated photograph.
Photo courtesy of Evan Medeiros
Issues regarding Taiwan have been difficult and politically sensitive since 1979, Medeiros said, adding that the key concept on the issue has been whether one has a strategic view and that the implementation of such views was not led by Beijing.
"The Obama administration did not let Beijing manipulate us, but rather we have a very clear vision and systematically pursue it," Medeiros said.
The Taiwan-US relationship has flourished in economic, diplomatic and military terms, Medeiros said, adding that under the Obama administration's "reconceptualizing" and "reinstitutionalizing," high-ranking officials from Taiwan and the US were able to communicate with each other frequently.
As a result of these ties, Taiwan was included in the US' visa waiver program and has become increasingly active in global affairs, while the US stepped up arms sales to Taiwan and reinforced military interaction, Medeiros said, adding that while many of these improvements were incremental and gradual, they were still considerable when taken all together.
If you want to know the true stakeholder in Northeast Asia, it is Taiwan, Medeiros said, adding that he wanted to thank the administration of former president Ma Ying-jeou (馬英九) for its contributions to regional and global security and being "a true partner of the US."
While Medeiros left the White House in 2015 following a visit by Tsai — who at the time was the Democratic Progressive Party's (DPP) presidential candidate — he said his understanding was that the quality of communication and cooperation between the Tsai and Obama administrations continued unabated from Ma's time in office.
What changed was the cross-strait environment, but the US' commitments to Taiwan remain resolute and clear, Medeiros said.
"We are in a time of uncertainty and Taiwan should disperse political, economical and national security risks," he said.
The "new southbound policy" launched by the Tsai administration is on a correct path, but it is not easy, Medeiros said, but added that Taiwanese corporations and people have proven to be resilient and adaptive in the face of adversity.
Mederios is working for the Eurasia Group as its managing director for Asia and spoke at the Taiwan Stock Exchange and to members of the Republic of China Bankers' Association.
Taiwan needs to address its over-reliance on China, either by making new investments in Southeast Asia or by stepping up investments in the US and the EU, he said, adding that a clear view on the political situation is as important as scrutinizing economic indices.
Regarding Taiwan-US economic relations, the Obama administration had successfully created "a framework to manage beef and pork issues, so the relationship could grow," and we will not miss seeing the forest for the trees, he said.
Taiwan is still the key to resolve these issues so that economic relations can continue to grow, Medeiros said.
However, Taiwan does not present a friendly environment for foreign investors, he said, adding that throughout Obama's term he encouraged Taiwan to join the Trans-Pacific Partnership and to sign bilateral free-trade agreements with New Zealand and Singapore.
Medeiros said that a free-trade agreement could be signed between Taiwan and the US if the policies of the Trump administration allowed it, but added that there would be no restrictions for Taiwanese corporate investments in the US.
Comments will be moderated. Keep comments relevant to the article. Remarks containing abusive and obscene language, personal attacks of any kind or promotion will be removed and the user banned. Final decision will be at the discretion of the Taipei Times.