Han Kuo-yu announces bid for KMT chairmanship
Former Taipei Agricultural Products Marketing Corp president Han Kuo-yu (韓國瑜) yesterday announced that he is running for the Chinese Nationalist Party (KMT) chairmanship.
Han made the announcement at a news conference a day after he tendered his resignation from his company post.
Shortly after making the announcement, Han turned and hugged a stack of cabbages behind him, saying that it was a symbolic gesture representing his embrace of public opinion.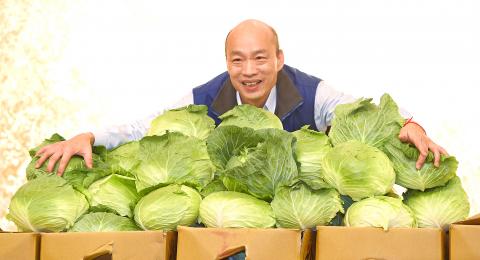 Former Taipei Agricultural Products Marketing Corp president Han Kuo-yu embraces a stack of cabbages at a news conference in Taipei yesterday.
Photo: Liu Hsin-de, Taipei Times
The former politician, known for his combative style, said that over the past few years he never ignored public opinion from the grassroots level and that if the KMT does not take public opinion seriously, it will lose support.
Earlier that day, Han said in a statement that he was willing to run for mayor in Tainan or Kaohsiung in next year's local elections if no suitable KMT candidates step forward.
"Give me a place to stand and I shall move the Earth," Han said, partially quoting Greek scientist Archimedes.
He added that he will reform the entire KMT and give Taiwan a "healthy political party."
The former three-term lawmaker also proposed that the KMT put all of its assets into a trust, and deal with related issues through legal processes.
He said that if he is elected KMT chairman, he will make party assets transparent.
Han also called for party reform, suggesting that the party's structure be streamlined into four departments: a chairperson's office; an organizational department; a public opinion, policymaking and public relations department; and an overseas liaison department.
Han, 59, is the fourth hopeful to enter the race after former vice president Wu Den-yih (吳敦義), KMT Vice Chairman Hau Lung-bin (郝龍斌) and KMT Chairwoman Hung Hsiu-chu (洪秀柱).
When he was a member of the Legislative Yuan in the 1990s, he once physically attacked fellow lawmaker Chen Shui-bian (陳水扁), who became president of Taiwan in May 2000.
At the time, Han said he became aggressive to counter the violent behavior of Chen's colleagues in the then-opposition Democratic Progressive Party.
The KMT election is slated for May 20.
Comments will be moderated. Keep comments relevant to the article. Remarks containing abusive and obscene language, personal attacks of any kind or promotion will be removed and the user banned. Final decision will be at the discretion of the Taipei Times.