Low birth rates hurt universities
DEMOGRAPHICS: NTU's doctoral programs in theater and drama, art history, sociology, social work, anthropology, evolutionary biology and others failed to recruit any students
The Ministry of Education yesterday said that 151 tertiary institutions have faced zero enrollment for some classes for the current school year because of low birth rates.
According to a list compiled by the ministry, 64 departments and graduate programs at public institutions and 87 at private ones failed to attract any students, which accounted for about 1.7 percent of the total number of institutions.
Another 268 departments and graduate programs recorded an enrollment rate of below 30 percent, with the number of private institutions accounting for 212, or 2.4 percent, of the total number of department and graduate programs nationwide, the list showed.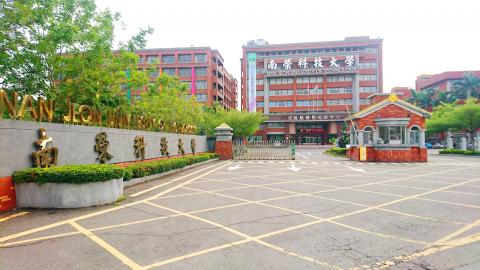 The entrance to Nan Jeon University of Technology in Tainan is pictured yesterday. The school's undergraduate programs rank at the bottom of those offered by universities nationwide in terms of enrollment rate this school year.
Photo: Yang Chin-cheng, Taipei Times
Seven National Taiwan University (NTU) doctoral programs — drama and theater, art history, anthropology, sociology, social work, ecology and evolution biology and translational medicine — failed to recruit any students, the list showed.
Nine graduate programs at National Kaohsiung Normal University, which trains teachers in educational administration, Mandarin, English, physical education, biology, geography and visual design, were snubbed by students, it showed.
The National Chengchi University, National Tsing Hua University and National Cheng Kung University were among high-ranking national universities with doctoral programs registering zero enrollment, it showed.
Five-year vocational colleges recorded the highest enrollment rate (90.54 percent), followed by degree programs that two-year vocational colleges offered to people with jobs (86.58 percent) and ordinary universities (85.94 percent).
Overall enrollment at tertiary institutions dropped by 0.4 percent compared with last year, but that matriculation at universities saw a slight increase of 0.86 percent, ministry official Chang Chia-yu (張?育) said.
Tertiary institutions that fail to pass a 60 percent enrollment threshold for two consecutive years would be put on a list of schools that require special guidance from the ministry, while the numbers of students public and private institutions are allowed to recruit would be cut if they fail to achieve an enrollment rate of 80 percent and 70 percent respectively, Chang said.
The ministry would slash subsidies for institutions that fail to reach a 50 percent enrollment rate, she said.
Commenting on doctoral programs that recruited few or no students this year, Chang said that it did not necessarily mean the programs received no applicants, but that applicants likely failed to pass entrance exams or interviews, resulting in the seemingly poor enrollment.
Accessibility could have also played a part in an institution's enrollment, as some institutions in remote areas in eastern, central or southern Taiwan recorded less-than-ideal enrollment despite the high quality of their work, she said.
She urged students not to base their decision about whether to apply to an institution solely on its enrollment rate, but should instead obtain a good understanding of their courses and the jobs held by their alumni.
Comments will be moderated. Keep comments relevant to the article. Remarks containing abusive and obscene language, personal attacks of any kind or promotion will be removed and the user banned. Final decision will be at the discretion of the Taipei Times.