Central regions demand national action on air pollution
Grassroots Local governments said they sent draft regulations to the EPA for approval under the Ma and the Tsai administrations that have yet to be acknowledged
The national government should implement rigorous and uniform standards for air pollution regulation to end the confusion over multiple regulatory systems at the state level, experts and environmental groups said in response to controversies regarding coal-fired power plants in Taiwan's central region.
Last year, six county and city-level governments in the central region signed an agreement to ban petroleum coke and bituminous coal-fired power plants — among them the Taichung, Yunlin and Changhua governments that passed regulations to step up environmental regulations.
In May last year, the Yunlin County Council passed self-governing regulations to ban bituminous coal and petroleum coke in Yunlin, and it is estimated the rules would have reduced the annual emission of oxides by 5,595 tonnes or 40 percent, airborne particles by 757 tonnes, or 73 percent, and nitrogen oxides by 8,200 tonnes, or 53 percent.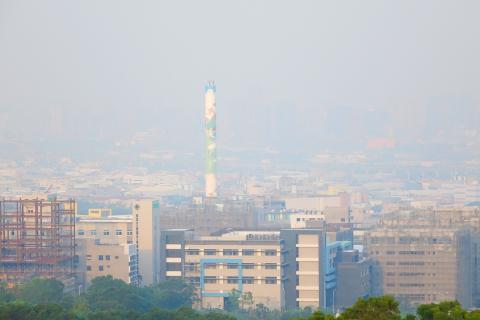 The view from a high vantage point in Taichung on Oct. 20 shows the smog over the city.
Photo: Liao Yao-tung, Taipei Times
Then-president Ma Ying-jeou's (馬英九) Environmental Protection Administration (EPA) blocked the regulations, on grounds that they did not conform to the Local Government Act (地方制度法) and the Air Pollution Control Act (空氣汙染防制法).
After President Tsai Ing-wen (蔡英文) took office in May, the EPA in September this year approved Yunlin County Government's revision of local environmental regulations — the first emissions standards to be crafted by a local government and scheduled to come into affect in April next year — that restricts emissions limits for power generation plants.
According to the Yunlin County Power Facility Air-Pollutant Emission Standards, the maximum allowable suspended particles in emissions has been reduced from 28 milligrams per cubic meter to 15 milligrams per cubic meter, sulfur oxides from 86 parts per million to 25 parts per million, nitrogen oxides from 101 parts per million to 46 parts per million.
The Taichung City Government in December last year filed its self-governing regulations to control bituminous coal use and ban petroleum coke use in public and private places, but the Executive Yuan has not given any formal response.
The target set by Taichung's regulations is to reduce sulfur oxides by 6,052 tonnes per year and to reduce petroleum coke use by 40 percent in four years.
Changhua County Council in July passed self-governing regulations for the use of heavily polluting fuels in public and private places that was filed with the EPA for approval in August; the standards specified by Changhua are more rigorous than Yunlin County's.
Air pollution and higher rates of cancer in the nation's central region correlate with the presence of the coal-fired units of the Taichung Power Plant complex, Formosa Petrochemical Corp's (台塑石化公司) naphtha cracker and other industrial facilities, National Chung Hsing University environmental engineering professor Tsuang Ben-jei (莊秉潔) said.
Tsuang said local governments were compelled to take the initiative in regulating air pollution because of government inaction in confronting the problem and the lack of uniformity in local standards reflects uneven regional development.
Taiwan Healthy Air Action Alliance convener Yeh Guang-peng (葉光芃) said that in the past, local governments had been more aggressive in regulating air pollution because they were less insulated from popular pressure than the national government, formerly under the leadership of the Chinese Nationalist Party (KMT) administration.
Since the presidential and legislative elections in January, the Democratic Progressive Party (DPP) became the ruling party in the executive and the majority in the legislature, and it now has an obligation to coordinate environmental legislation across national and local levels of government, Yeh said.
Changhua County Environmental Protection Union secretary-general Shih Yueh-ying (施月英) said that the government had not responded to local regulations submitted by the Changhua County Government, in spite of those regulations having been submitted in early August this year.
Changhua County government has been pushing for more stringent regulations, but it appears that EPA Minister Lee Ying-yuan (李應元) or his subordinates are obstructing the process, Yeh said.
"They must think they can treat us like toddlers if they mean to tell us the minister is not too busy to wheel and deal with Formosa Chemicals & Fiber Corps (台灣化學纖維), but has no time for Changhua's self-governing regulations," Yeh added.
Homemaker Union Consumer Co-Op Taichung Chapter president Hsu Hsin-hsin (許心欣) said Taichung's self-governing regulations were submitted to the national government almost a year ago, but the authorities had not got back to local officials or clean-air activists.
Hsu was also skeptical of the national administration and pointed to the EPA and the Executive Yuan as the chief obstacles in passing clean-air regulations: "They did not dare to make a decision prior to the [governmental handover] on May 20 and they do not dare to make decisions now. The national government has blatantly failed to do its job," she said.
The clean-air controversy indicates the tenuous communication between the government on the local and national levels, said Hsu, adding that the Ministry of Economic Affairs or the EPA had done nothing to prioritize the purchasing of electric power from gas-fired rather than coal-fired plants, a measure activists believe would help curb pollution.
Although Formosa Chemical & Fiber's coal-fired power plants in Changhua have been shut down, heavy pollution — particularly airborne particulate matter measuring 2.5 micrometers or less (PM2.5) — has persisted, as evidenced by the EPA's severe pollution warnings last month, because there are a multitude of polluters operating in the central region, Tsuang said.
In addition to a coal-fired power plant operated by Formosa Chemical & Fiber's coal-fired power plant in Changhua, other contributors to heavy-pollution in the central region include plants owned by the Dragon Steel Corp (中龍鋼鐵) in Taichung, the Taichung Power Plant, power plants owned by Formosa Petrochemical's naphtha cracker in Yunlin and others, Tsuang said.
According to his computer modeling, terminating power generation by major coal-fired plants, such as Taichung Power Plant and the Formosa Petrochemical's plant, would have an immediate and significant effect in improving air quality in Taichung, Changhua, Nantou and Yunlin counties, Tsuang said.
After shuttering Formosa Chemical & Fiber, advocates have set their sights on the region's other leading polluters and especially the Taichung Power Plant, Hsu said, adding that advocates would hold its operators to account for honoring their pledge to reduce coal consumption and the percentage of power generated by coal.
A power plant operated by Formosa Petrochemical's naphtha cracker in Yunlin is also to be monitored closely by clean-air campaigners, Hsu said.
Yeh said the advocates would target every major industrial polluter in the region, adding that they will focus on challenging the EPA's analytical methods, which he said use deceptive accounting that include statistical outliers in its calculations for emission averages.
Comments will be moderated. Keep comments relevant to the article. Remarks containing abusive and obscene language, personal attacks of any kind or promotion will be removed and the user banned. Final decision will be at the discretion of the Taipei Times.