Annette Lu calls for vote on neutral Taiwan
MILITARY STRENGTH: The former vice president also opposes plans to build an all-volunteer military force and instead called for drafting men and women to serve
Amid increased tension between the US and China, former vice president Annette Lu (呂秀蓮) yesterday renewed her call for a referendum to declare Taiwan a neutral country, while urging the government to draft both men and women to serve in the military to boost the nation's defense capabilities.
As the unpredictable policy of US president-elect Donald Trump could upset stability in the Asia-Pacific, Taiwan has to become a permanently neutral country to seek peaceful relations with other nations, Lu told a press conference in Taipei.
The political environment in South Korea and the Philippines — traditional US allies — has also changed dramatically, and Taiwan should declare itself a peaceful and neutral nation to avoid potential regional conflicts, Lu said.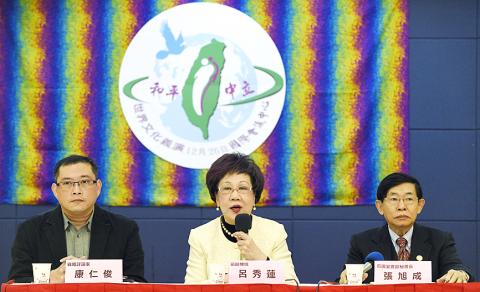 Former vice president Annette Lu is flanked by media veteran Hector Kang, left, and former National Security Council deputy secretary-general Parris Chang as she speaks at a news conference in Taipei yesterday.
Photo: Chen Chih-chu, Taipei Times
The Legislative Yuan is expected to complete its review of and approve draft amendments to the Referendum Act (公民投票法) to lower the thresholds for launching and approving a plebiscite, making it possible to launch a referendum next year to proclaim Taiwan as a peaceful and neutral country, Lu said.
Lu has organized a referendum campaign for two years and collected thousands of signatures.
"The issue of independence and unification is outdated. Taiwan is an independent country, as we elect our president," she said. "We give up confrontation with China, and we proclaim to the world that we want peace and neutrality. We will forge friendship with every country that is friendly to us, including China."
Commenting on Chinese reactions to a congratulatory phone call made by President Tsai Ing-wen (蔡英文) to Trump, Lu said the fact that Trump referred to Tsai as "the president of Taiwan" exposed the absurdity of the "one China" principle.
She compared the principle to the Emperor's New Clothes, and said Trump's acknowledgment of Tsai as the president of Taiwan highlighted the fact that "there is only one Taiwan."
"I am fully in approval of that there is only one China, which I do not challenge, but there is also only one Taiwan in the world," she said.
That Tsai secured the acknowledgment from the world's largest democracy was an honor shared by all Taiwanese, Lu said, urging the Tsai administration to maintain national security and promote Taiwanese values while "normalizing" the country.
Lu also called on the government to scrap a plan to build an all-volunteer military force and instead draft men and women to military service to strengthen the nation's military.
To maintain peace and neutrality, it is necessary to keep a strong armed forces, which should include compulsory conscription of women as well as men, she said.
According to the Constitution, citizens have the duty to perform military service, and that duty is not gender-based, she said.
She also called on the government to revise laws to increase penalties for people involved in Chinese espionage activities, and to boost the defense capabilities in eastern Taiwan, as China's military is able to break through the first island chain and conduct attacks from afar.
Comments will be moderated. Keep comments relevant to the article. Remarks containing abusive and obscene language, personal attacks of any kind or promotion will be removed and the user banned. Final decision will be at the discretion of the Taipei Times.