Soy sauce prices 'confusing': watchdog
The Consumers' Foundation yesterday said a random inspection of soy sauce products in stores uncovered great price variations, including two items that both claimed to be "100 percent pure brewed" soy sauce with one costing 11 times as much as the other.
While soy sauce is a common seasoning, those that claim to be pure — brewed directly from a fermentation process without additives — are popular, but it is difficult for people to determine differences in quality by reading labels, the foundation said.
Labels used terms such as "pure brewed," "no additives," "sweet and mellow," "crafted" or "aged," which could confuse people, it said.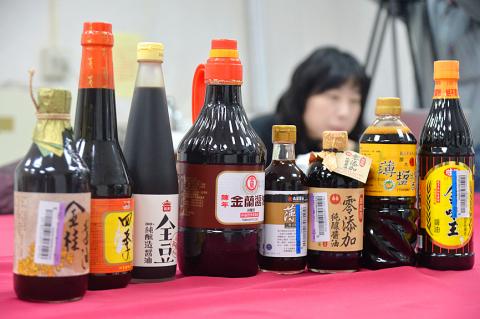 Soy sauce products are displayed at a news conference in Taipei yesterday.
Photo: CNA
It purchased 10 soy sauce products, eight of which were pure brewed, via online shopping portal PChome and found that the price of pure brewed soy sauce ranged from NT$0.07 per milliliter to NT$0.8 per milliliter.
Foundation secretary-general Chang Hung-ju (張宏如) said the Food and Drug Administration (FDA) announced a draft act regulating the labeling of soy sauce in July, dividing products into four categories — brewed, instant, hydrolyzed and mixed — but added that the administration is considering removing the "instant" category, which might create more confusion.
Food companies should be transparent about the manufacturing process of their products, provide QR codes on labels so people can more easily examine ingredients, places of origin and other information, she said, adding that the government should keep a close eye on prices and qualities of soy sauce products.
The foundation urged consumers to read ingredient lists carefully and avoid products with too many additives, especially if they are written at the start of the ingredients list, as companies are required to list them according to their concentrations.
FDA Division of Food Safety official Hsu Chao-kai (許朝凱) said the administration considered removing the instant-made category because there are no such products on the market.
If people think it is important to keep the category, the matter can be discussed before the draft act is put into effect, Hsu said.
Comments will be moderated. Keep comments relevant to the article. Remarks containing abusive and obscene language, personal attacks of any kind or promotion will be removed and the user banned. Final decision will be at the discretion of the Taipei Times.