Marriage equalists are 'rainbow bullying': critics
Dozens of young protesters opposed to same-sex marriage yesterday staged a brief sit-in in front of the Legislative Yuan building, accusing advocates of the legalization of same-sex marriage of "rainbow bullying" and demanding an immediate halt to a legislative review of the same-sex marriage draft bills.
Wearing surgical masks marked with a large "X" as a symbol of what they say is their silencing by same-sex marriage supporters, a group of about 20 members from the Protection of Family Value Students Organization, the Youth Self-Awareness Alliance and the Taiwan's Hope Rescue Alliance yesterday urged more like-minded young people to step forward and let their voices be heard.
"There is not just one voice in this society. Contrary to news media's claims that the majority of young Taiwanese support the legalization of gay marriage, many people like us are actually against it," Protection of Family Values Students' Organization convener Shih Chun-yu (施俊宇) said.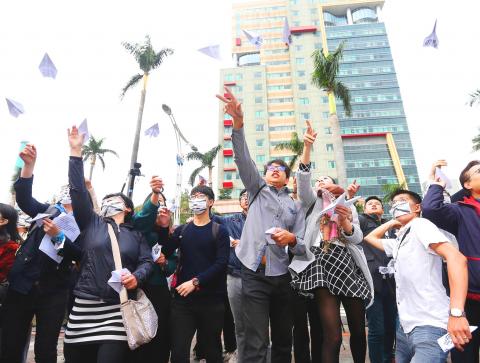 Demonstrators opposed to marriage equality throw paper planes with text calling for the return of draft bills aimed at legalizing same-sex marriage during a demonstration outside the Legislative Yuan in Taipei yesterday.
Photo: CNA
Shih said they had been deterred by "rainbow bullying" from voicing their opinions about same-sex marriage.
"Younger people never experienced first-hand the White Terror era, but we are dumbfounded to find ourselves unable to express our opinions in what we thought was free and democratic nation," Shih said.
"When homosexual people want to get married and amend our heterosexual laws, why can't heterosexuals voice their opinions?" Shih said, calling for a referendum to be held on the issue and unbiased media reporting.
He added that they would stage a more drastic and larger-scale protest if lawmakers insist on railroading draft amendments through the legislature in the current legislative session.
A legislative committee meeting to review bills concerning the legalization of same-sex marriage is to be held on Dec. 26. However, in addition to periodic protests by opponents of homosexual unions, another hurdle to the government's plan to achieve marriage equality is a lack of consensus among lawmakers on whether to amend the Civil Code or enact a new law dedicated to homosexual partnerships. The latter proposal has been criticized as being discriminatory.
A member of the Protection of Family Values Students' Organization, surnamed Chao (趙) said she was subjected to "rainbow bullying" online after she posted her thoughts on a discussion board following a public hearing on the legalization of same-sex marriage last month.
"They [pro-gay marriage netizens] mocked my photograph and said my remarks were illogical and pure nonsense," Chao said.
A Youth Self-Awareness Alliance spokesman who only identified himself by his surname, Weng (翁), said opponents of same-sex marriage were threatened and shouted at by supporters of marriage equality when both camps gathered near the legislature on Nov. 28.
"Is this society not tolerant of different voices? The opposing camp claims to represent diversity and human rights, yet its members have refused to listen to different opinions. This is what we call 'rainbow bullying,'" Weng said.
Comments will be moderated. Keep comments relevant to the article. Remarks containing abusive and obscene language, personal attacks of any kind or promotion will be removed and the user banned. Final decision will be at the discretion of the Taipei Times.