Taiping Island drills due to begin
The Coast Guard Administration and the Ministry of National Defense plan to conduct humanitarian rescue exercises on Itu Aba Island (Taiping Island, 太平島) tomorrow, as part of President Tsai Ing-wen's (蔡英文) promise to turn the island into a humanitarian aid and resupply base, an official said yesterday.
The official, who declined to be named, said that exercises are intended to be a "soft" reassertion of national sovereignty over the island, increasing international awareness without increasing tensions in the South China Sea through "muscle flexing" focused on military power.
Coast Guard Director-General Lee Chung-wei (李仲威) is to attend, the official said.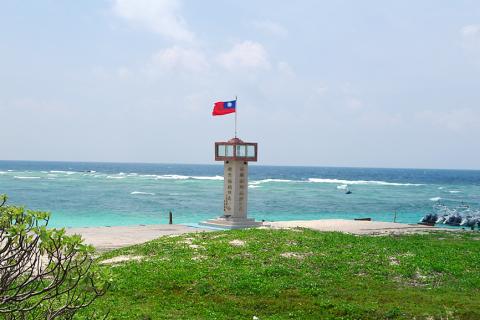 The Republic of China national flag flies on a low tower on Itu Aba Island (Taiping Island) on Jan. 27.
Photo: Luo Tien-pin, Taipei Times
Tsai declared the island would become a humanitarian rescue center on July 19 after the Permanent Court of Arbitration in The Hague ruled it was legally a "rock," and therefore not entitled to an exclusive economic zone.
The Coast Guard Administration's Pratas Islands (Dongsha Islands, 東沙群島) and Spratly Islands (Nansha Islands, 南沙群島) commands have provided numerous forms of emergency medical and humanitarian aid since the agency in 2000 assumed the duty of sending personnel to the islands, the official said, adding that agency statistics showed a total of 70 cases of assistance involving 100 people.
Government statistics showed that international humanitarian aid on the part of the Pratas Islands Command comprises the greatest single category of cases, including 25 incidents comprising 43 people.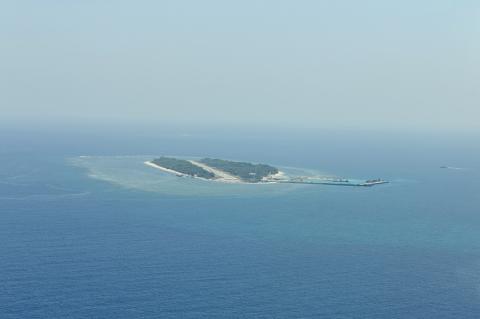 Itu Aba Island (Taiping Island) is pictured from the air on March 23.
Photo provided by a visitor to the island
The Spratly Islands Command based on Itu Aba most recently aided three Taiwanese fishing boats which had run out of fresh water and applied to dock and resupply, the official said, adding that a member of one crew also received medical treatment for cellulitis in his lower leg.
A more urgent case occurred two years ago when a Chinese fishing boat applied for medical assistance after two crew were severely injured when a lift broke.
One crew member was already dead by the time the boat arrived, while the other had several internal injuries to his waist and back.
After cleaning and dressing his wounds and determining his condition was stable, he was sent back to the boat and returned to China, the official said.
Comments will be moderated. Keep comments relevant to the article. Remarks containing abusive and obscene language, personal attacks of any kind or promotion will be removed and the user banned. Final decision will be at the discretion of the Taipei Times.