Nation prepared if US pulls out of TPP: Lee
Minister of Foreign Affairs David Lee (李大維) yesterday downplayed the potential impact of a US withdrawal from the Trans-Pacific Partnership (TPP), saying the government has prepared for such an eventuality.
Lee made the remarks on the sidelines of a meeting of the legislature's Foreign Affairs and National Defense Committee, which was convened to review the ministry's budget for next fiscal year.
"This is what we expected. [US president-elect Donald Trump] clearly indicated in his campaign remarks that he intended to head in that direction," Lee said in response to media inquiries regarding Trump's plan to issue a note of intent to withdraw from the US-led TPP "from day one" of his presidency.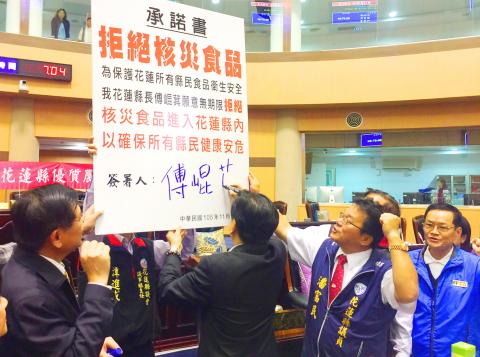 Hualien County Commissioner Fu Kun-chi yesterday signs a "Pledge" sign at the Hualien County Council, promising to ban all food products from five Japanese prefectures from entering the county.
Photo: CNA
The planned withdrawal from the TPP is one of the many policy plans outlined by Trump in a video posted on YouTube on Monday.
Lee said the government has prepared for such a move, and that it is equally imperative for the nation to adopt measures to improve bilateral trade liberalization.
President Tsai Ing-wen's (蔡英文) government has repeatedly stated its intention to join the TPP in the second round of negotiations, prompting it to reportedly consider easing the nation's ban on imports of US pork containing residues of a leanness enhancing feed additive called ractopamine.
Asked whether the issue of the nation's import ban on foods from five Japanese prefectures would be discussed at the annual Taiwan-Japan economic and trade conference — scheduled to be held on Tuesday next week in Taipei — Lee said no conclusions would be made prior to the meeting.
"It goes without saying that an agreement could only be made after negotiations and mutual compromises at the meeting. How could there be a conclusion before the conference?" Lee said, adding that the government's policymaking process would adhere to due procedures.
Some media outlets say that the government intends to lift an import ban on Japanese food products from the five prefectures of Fukushima, Ibaraki, Tochigi, Gunma and Chiba in exchange for better fishing rights for Taiwanese fishermen operating near the Japan-controlled Okinotori atoll in the Western Pacific.
The ban was imposed in March 2011 shortly after the nuclear meltdown at the Fukushima Dai-ichi nuclear power plant.
Comments will be moderated. Keep comments relevant to the article. Remarks containing abusive and obscene language, personal attacks of any kind or promotion will be removed and the user banned. Final decision will be at the discretion of the Taipei Times.