Ma calls for respect of sexual orientations
'SHARED DAILY EXPERIENCES': The former president said that personal exchanges would allow people in China to better understand the 'value of Taiwan's existence'
Former president Ma Ying-jeou (馬英九) on Saturday called for respect for every individual's sexual orientation, as he met with Asian students at the University of Notre Dame in Indiana to discuss a number of issues, including the value of Taiwan's democratic system, gay rights and the importance of increased cultural exchanges with China.
He made the remarks at a forum held by the university, addressing students from Taiwan, Hong Kong, Macau and China on the subject of cross-strait relations.
Ma, on his first trip to the US since leaving office in May, began by saying that Taiwan-China relations could be "natural" if they are based on "shared daily experiences," such as exchanges between students.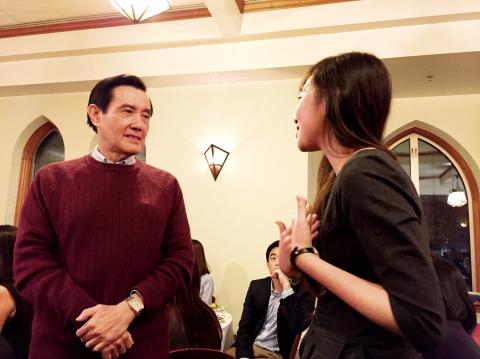 Former president Ma Ying-jeou, left, talks with a student at the University of Notre Dame near South Bend, Indiana, on Saturday.
Photo: CNA
Praising Taiwan's democratic system, Ma said that it is imperative that the decisions made by individuals in Taiwan be free of social interference, and he expressed his belief that society would make the right decision on the legislature's draft bills to legalize same-sex marriage through the democratic process.
The former president told the students a story about Taiwan's gay rights movement centering on a visit by a Chinese women's rights advocate, who had been invited by a gay rights group.
"She initially did not have any fixed views of Taiwan, but after interacting with Taiwanese gay rights advocates, she was deeply touched by the efforts," Ma said, adding that the Chinese woman spoke highly of Taiwan after her visit, leaving even her friends thinking she was a supporter of Taiwanese independence.
During his time as Taipei mayor, the city budgeted NT$1 million (US$31,240 at the current exchange rate) for activities in support of the gay community and made city land available for their use, Ma said, adding that government support has made Taipei Asia's most gay-friendly city.
While his support of gay rights, based on human rights and humanitarianism, during his time in office have been questioned by his older relatives, Ma said he believed "an individual's sexual orientation must be respected."
Whether the legal definition of a "family" should be changed is another matter, but at the very least, people should not be discriminated against and their basic human rights should be safeguarded at all costs, he said.
Returning to the subject of cross-strait relations, Ma said exchanges such as that of the Chinese women's rights advocate should be increased, because it would allow people on the other side of the Taiwan Strait to better understand the "value of Taiwan's existence."
Taiwan represents the most democratic environment in the "several-thousand-year history of the Chinese people," he said.
"This does not mean that anything goes in Taiwan," Ma said.
"It is just that people in Taiwan will not be hindered when making collective decisions," he added.
Ma was scheduled to deliver the keynote speech at the university's second Asia Leadership Forum yesterday before traveling to Chicago to attend a dinner with Taiwanese expatriates.
He is scheduled to return to Taiwan on Wednesday.
Comments will be moderated. Keep comments relevant to the article. Remarks containing abusive and obscene language, personal attacks of any kind or promotion will be removed and the user banned. Final decision will be at the discretion of the Taipei Times.