Ministry proposal 'takes reform halfway'
SELF-REGULATION: The proposed amendment prohibits Ministry of Education officials who have held certain positions from taking posts at private universities
The Ministry of Education is only "taking reform halfway" with a draft amendment to the Private School Act (私立學校法) it proposed last week that would bar high-ranking ministry officials from serving as presidents, directors or supervisors at private universities within three years of their retirement, the Taiwan Higher Education Union said yesterday.
Union members staged a protest in front of the ministry building in Taipei, accusing it of creating a loophole in the amendment.
The amendment prohibits ministry officials who have held the positions of minister, deputy minister, department of higher education director or chief secretary from taking up posts at universities.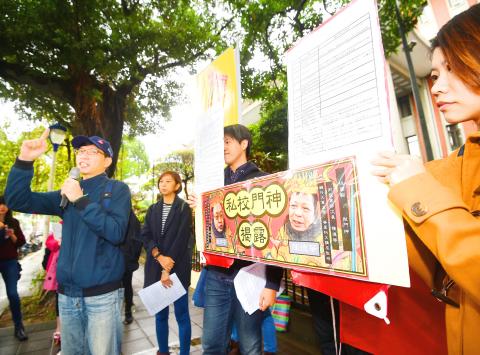 Members of the Taiwan Higher Education Union yesterday stage a protest in front of the Ministry of Education building in Taipei.
Photo: Fang pin-chao, Taipei Times
However, it falls short of prohibiting lower-ranked officials whose work is related to higher education from assuming private university posts, which could give rise to possible corruption at private institutions, the union said.
For example, officials who previously held posts as a deputy director or a senior specialist could improperly use their influence to help the university they are working for secure more funds, it said.
The group named two former ministry officials who have recently made "seamless transitions" to private university posts, accusing them of acting as "door gods" or "guardians" for their schools.
Former deputy minister of education Chen Der-hwa (陳德華), who retired from the ministry in May after working there for 33 years, became an adjunct professor at Da-Yeh University and Hwa Hsia University of Technology in September, union organization department director Lin Po-yi (林柏儀) said.
Lin said that Chen in 2011 penned an article panning calls to gradually reduce the number of students at all universities, saying that it would be a "major disaster" for higher education.
Chen's article advocated against reducing the gap between the number of students and lecturers, which would help universities collect more tuition fees, but would tilt the student-teacher ratio unfavorably against students, he said, adding that this is proof Chen had attempted to benefit universities.
Former Department of Technological and Vocational deputy director Jao Pang-an (饒邦安), who retired in August last year and is now the chief secretary at Takming University of Science and Technology, advocated against "directors of public interest" — objective, disinterested members of third-party organizations that recommended staff for private universities' boards of directors to protect faculty and student rights — in an article published by the Taiwan Education Review, union secretary-general Chen Cheng-liang (陳政亮) said.
Jao could be protecting private school directors who have been involved in illegal profiteering, he said.
Ministry official Ting Hui-hsiang (丁慧翔) dismissed accusations that the ministry is insincere about the reform, calling the draft amendment the ministry's "act of self-regulation."
Citing Constitutional Interpretation No. 637, she said the draft amendment should not overly infringe on civil servants' rights to work, adding that the ministry proposed the amendment after reviewing relevant provisions governing civil servants who have retired.
Comments will be moderated. Keep comments relevant to the article. Remarks containing abusive and obscene language, personal attacks of any kind or promotion will be removed and the user banned. Final decision will be at the discretion of the Taipei Times.