Poll says Hung's China trip a success
SPORTS FANS? The Trendgo survey said that 57 percent of respondents expressed a positive view of a request that China allows athletes to compete at the Universiade
An opinion poll released yesterday showed wide support for Chinese Nationalist Party (KMT) Chairwoman Hung Hsiu-chu's (洪秀柱) China visit and meeting with Chinese President Xi Jinping (習近平), with respondents saying the trip would be conducive to addressing the cross-strait impasse.
The survey, which gauged perceptions of the meeting, was conducted by New Taipei City-based polling company Trendgo at the KMT's behest from Friday to Sunday after Hung returned from the five-day trip to China on Thursday last week.
Of those polled, 44.4 percent said they supported Hung's decision to counter the Democratic Progressive Party's (DPP) independence clause with the KMT's new "peace-centered policy platform," compared with 24.7 percent who said they did not support it.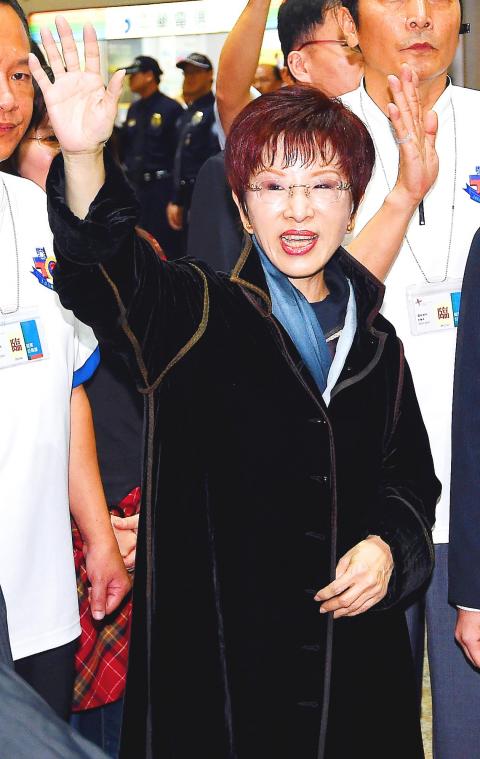 Chinese Nationalist Party (KMT) Chairwoman Hung Hsiu-chu waves to supporters at Taiwan Taoyuan International Airport on Thursday last week.
Photo: Chu Pei-hsiung, Taipei Times
Fifty-seven percent expressed a positive view toward Hung's request that Xi allow Chinese athletes to participate in next year's Summer Universiade in Taipei, with 19.1 percent disapproving of the move, the poll showed.
Hung's request that Beijing give Taiwan more opportunities to participate at international events — such as the APEC summit in Peru — received the support of 64 percent of respondents, while 11.5 percent disapproved.
Asked whether Hung's visit would help break the cross-strait deadlock and promote exchanges, 48.2 percent of respondents answered yes, while 36.3 percent said no.
Among respondents, 57.3 percent said Taiwan should play a more active role in reinvigorating "Zhonghua culture," while 20.3 percent said it should not.
"Judging from the poll results, Chairwoman Hung's China visit received wide public support in terms of the subject matters discussed, as well as the nature and connotations of the trip," KMT Central Policy Committee Director Alex Tsai (蔡正元) told a news conference in Taipei.
"They showed that the Hung-Xi meeting was quite a success," he said.
KMT Culture and Communications Committee deputy director Hung Meng-kai (洪孟楷) said the survey also found that maintaining the cross-strait "status quo" remained the most popular choice, with 60.4 percent of respondents supporting it.
"Fewer than 20 percent of those polled leaned toward unification or independence, which indicates that the majority of Taiwanese are inclined to seek peaceful and stable cross-strait development under the status quo," Hung Meng-kai said.
The poll collected 1,070 valid samples.
It had a margin of error of 3 percentage points.
Comments will be moderated. Keep comments relevant to the article. Remarks containing abusive and obscene language, personal attacks of any kind or promotion will be removed and the user banned. Final decision will be at the discretion of the Taipei Times.