Catholics open to gay rights review
The Roman Catholic Church in Taiwan yesterday restated its opposition to same-sex marriage, while leaving open the possibility of supporting new legal rights for homosexual couples, calling for societal dialogue.
"The position of the Roman Catholic Church on marriage has always been the same: Marriage can only exist between a man and a woman," said Otried Chan (陳科), the secretary-general of the Chinese Regional Bishops' Conference, at a Legislative Yuan news conference calling for same-sex marriage legalization bills to be put on hold until hearings are conducted.
The first legislative reading of a bill altering the Civil Code's (民法) definition of marriage is expected today, with the Ministry of Justice, under Premier Lin Chuan's (林全) directive, saying before the lesbian, gay, bisexual and transgender Pride Parade on Saturday last week that it would start the review of various proposals this month and not be limited to the partnership bill favored by the former administration.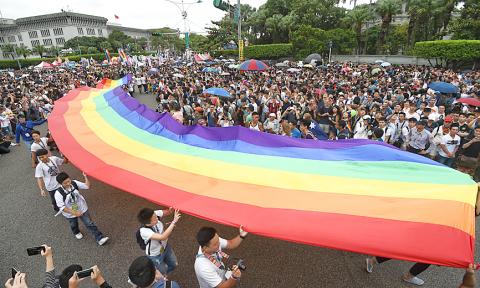 People carry a long rainbow flag as they take part in the 14th annual LGBT Pride Parade in Taipei last Saturday.
Photo: Fang Pin-chao, Taipei Times
"We understand that homosexual couples long to start families of their own, but those in government have a responsibility to protect marriage. Marriage is not something that can be lightly altered — there has to be a full discussion," Chan said, adding that there was room for discussion of "technical" issues, such as hospital visitation rights and inheritance rights for same-sex couples, as part of societal dialogue.
"Our government should do its best to take care of this group of people who are striving for their own happiness — that is the duty of government," he said. "If the government decides to pass a law guaranteeing the right of two men or two women to establish mutual inheritance rights, that is something we can respect. There is nothing wrong with leaving property to a friend or allowing a non-relative to make medical decisions or dispose of one's estate, but does that require changing the institution of marriage?"
Longhuayi Daoist Society (龍華易研書道協會) director-general Liu Chien (劉騫), one of several representatives from other religious groups at the news conference, called for a referendum on any change to the definition of marriage.
"Representative institutions cannot replace the people themselves for something this important, which would affect family and moral values," she said.
While advocates called for dialogue, Chan said they have yet to hold meetings with national legislators, in contrast with homosexual rights groups, who held meetings with party caucus representatives last week.
Comments will be moderated. Keep comments relevant to the article. Remarks containing abusive and obscene language, personal attacks of any kind or promotion will be removed and the user banned. Final decision will be at the discretion of the Taipei Times.