Cross-strait ties need to progress: Bush
HISTORY REPEATING: Xi's comments on Hung Hsiu-chu's proposed cross-strait peace accord are almost the same as the commentary from ex-Chinese president Jiang Zemin
Cross-strait relations need to enter a phase of incremental and reciprocal progression in which both sides of the Taiwan Strait build up mutual trust rather than Beijing's unilateral and endless demands for President Tsai Ing-wen's (蔡英文) administration to offer guarantees of its good will, said Richard Bush, director of the Center for Northeast Asian Policy Studies at the Brookings Institution think tank in Washington.
In an e-mail interview with the Chinese-language Liberty Times (the Taipei Times' sister newspaper) on Tuesday, the former American Institute in Taiwan chairman said that after carefully reading the six-point statement issued by Chinese President Xi Jinping's (習近平) government following his meeting with Chinese Nationalist Party (KMT) Chairwoman Hung Hsiu-chu (洪秀柱), it is clearly a statement of Beijing's policy on cross-strait relations.
While Beijing maintains its stance that it requires the Tsai administration's guarantee of good will, Taiwan has reason to mistrust Beijing's intentions, he said.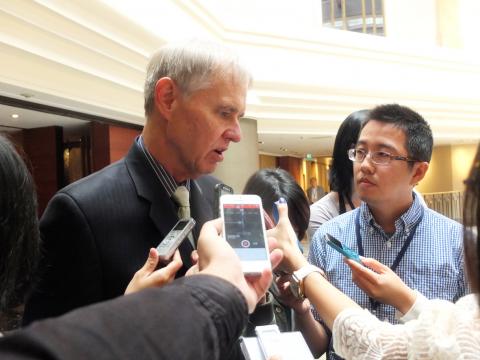 Former American Institute in Taiwan chairman Richard Bush is interviewed in Taipei in Oct. 28, 2014.
Photo: Tsao Po-yen, Taipei Times
Xi's "six-point statement" includes adherence to the so-called "1992 consensus" which reflected the "one China" principle; the adamant opposition to "pro-Taiwanese independence" separatists and their activities; the promotion of an increasingly integrated cross-strait economy and society; the joint promotion of Chinese culture; joint efforts to ensure the happiness of people on both sides of the Strait; and a joint effort to make the Chinese race great once more.
The "1992 consensus," a term former Mainland Affairs Council chairman Su Chi (蘇起) admitted to making up in 2000, refers to a tacit understanding between the KMT and the Chinese government that both sides of the Taiwan Strait acknowledge there is "one China," with each side having its own interpretation of what "China" means.
Xi's comments on Hung's proposal for a cross-strait peace accord is almost the same as the commentary heard under former Chinese president Jiang Zemin (江澤民) in the early 1990s to the early 2000s, Bush said, adding that had it not been for Hung specifically mentioning the issue, Xi would not have touched the subject.
Bush said he was puzzled as to why Hung would consider the Democratic Progressive Party's independence platform to have potential danger, since Tsai seems to be focused on practical domestic policy problems.
He was unclear how the KMT's new peace-centered policy platform could do more to stabilize cross-strait relations.
Bush also added that he did not understand how Hung could improve the KMT's current predicament in Taiwan through interactions with China, as it could very well cause greater harm to the KMT as Beijing seems to be willing to pick a side when it comes to Taiwan's internal politics.
Comments will be moderated. Keep comments relevant to the article. Remarks containing abusive and obscene language, personal attacks of any kind or promotion will be removed and the user banned. Final decision will be at the discretion of the Taipei Times.