KMT peace platform supported
EXCHANGE: Critics of the KMT's 'peace policy' have said it is an attempt by Chairwoman Hung Hsiu-chu to move the party closer to the 'one China, same interpretation' concept
The majority of Taiwanese support the Chinese Nationalist Party's (KMT) new policy platform that aims to end cross-strait hostility through a peace accord, despite it sparking heated debates within the party, the results of KMT surveys released yesterday showed.
KMT Culture and Communications Committee deputy director Hung Meng-kai (洪孟楷) said a survey conducted by a private polling center at the KMT's behest on Aug. 28 and Aug. 29 found that 51.5 percent of the 1,078 respondents supported the KMT's new policy platform, while 20.2 percent did not.
"They were asked whether they think the KMT should put forward a 'peace-centered policy platform,' one that endeavors to further the [so-called] '1992 consensus' based on the foundation of the Republic of China [ROC] Constitution and actively explore the possibility of putting an end to cross-strait hostility through a peace accord," Hung told a news conference at the KMT headquarters in Taipei.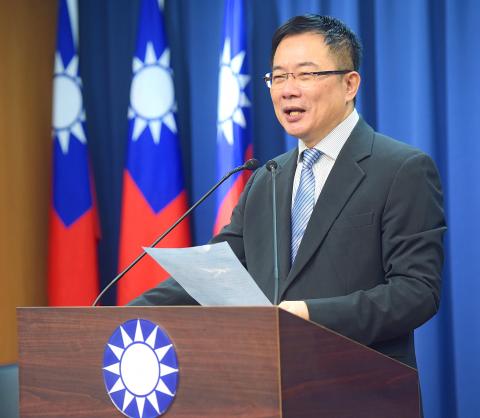 Chinese Nationalist Party (KMT) Central Policy Committee director Alex Tsai speaks at a news conference in Taipei yesterday, outlining the itinerary for KMT Chairwoman Hung Hsiu-chu's China trip.
Photo: Huang Yao-cheng, Taipei Times
Hung said another telephone-based poll carried out from Oct. 21 to Tuesday last week that queried more than 600,000 Taiwanese also yielded a similar result.
About 51.7 percent of the respondents in this month's survey voiced support for the KMT's endeavors to find a "way out" for Taiwan amid damage caused to the nation's trade and tourism industry by the Democratic Progressive Party's (DPP) "isolationism and anti-China policy," and to promote the party's new policy platform of peaceful cross-strait exchanges, Hung said.
The KMT's new policy platform, approved by the party's national congress on Sept. 4, has been a topic of heated debate within the KMT, as it mentions the "different interpretations" component of the "1992 consensus" only once and omits what the pan-blue camp has considered an integral element in the political framework in following sentences.
Critics have said that the new platform is an attempt by KMT Chairwoman Hung Hsiu-chu (洪秀柱) to move the KMT closer to the concept of "one China, same interpretation."
The "1992 consensus" refers to a tacit understanding between the KMT and Beijing that both sides of the Taiwan Strait acknowledge there is "one China," with each side having its own interpretation of what "China" means. Former Mainland Affairs Council chairman Su Chi (蘇起) in 2006 said he had made up the term in 2000.
Citing another survey conducted earlier this month among 1,068 respondents, Hung Meng-kai said that 45.9 percent of those polled believed that the KMT should continue exchanges and communication with Beijing for the sake of peaceful cross-strait development and people's livelihood, compared with 34 percent who disagreed.
"These figures suggest that the KMT's peace-centered policy platform, which was proposed to counter the DPP's independence guidelines, conform to mainstream public opinion and is recognized by most Taiwanese," he said.
Comments will be moderated. Keep comments relevant to the article. Remarks containing abusive and obscene language, personal attacks of any kind or promotion will be removed and the user banned. Final decision will be at the discretion of the Taipei Times.