No guarantee on same-sex vote
NON-COMMITTAL: Neither major party has made any commitment to push for or allow a floor vote on same-sex marriage, despite claims of support by legislators
Legislative Yuan caucus representatives yesterday declined to provide guarantees of a final, general-assembly vote on rules allowing same-sex "marriage," advocacy groups said yesterday, as related bills proposed by lawmakers across party lines head to the Judiciary and Organic Laws and Statutes Committee for an initial review.
Representatives of the Taiwan Tongzhi Hotline Association, Taiwan LGBT Family Rights Advocacy Association, Pridewatch Taiwan and the Awakening Foundation met separately with representatives of each of the legislature's four caucuses.
While the New Power Party and the People First Party both pledged support, Democratic Progressive Party (DPP) and Chinese Nationalist Party (KMT) caucus representatives were sympathetic, but noncommittal, Taiwan Tongzhi Hotline Association research associate Lu Hsin-chieh (呂欣潔) said, adding that meetings with homosexual advocates were delegated to DPP Legislator Lin Ching-yi (林靜儀) and KMT Legislator Jason Hsu (許毓仁), who have both sponsored legalization bills.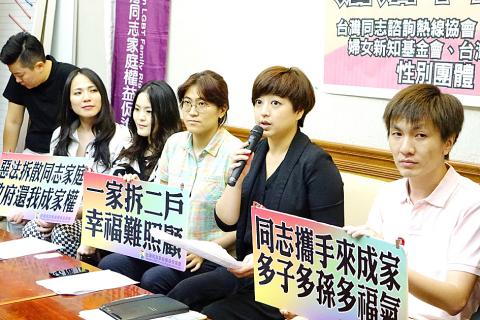 Representatives from different advocacy groups yesterday hold a news conference at the Legislative Yuan in Taipei to call for the legalization of same-sex marriage.
Photo: Wang Yi-sung, Taipei Times
"Lin said the reality was that there are some legislators who are worried about pressure from their districts," Lu said, adding that Hsu had said the KMT caucus had decided to designate legalization as an "open" issue, allowing lawmakers to vote their conscience.
Noticeably absent was any commitment from either party's leadership to push for or allow a floor vote amid claims that a majority of legislators have expressed support for some form of legalization.
According to a Pridewatch count, 57 of the nation's 113 legislators have issued public statements supporting legalization, while 41 have signed one of three bills.
Thirteen legislators are opposed, including DPP caucus whip Ker Chien-ming (柯建銘) and KMT caucus whip Sufin Siluko (廖國棟), it said.
Taiwan Tongzhi Hotline Association secretary-general Peng Chih-liu (彭治鏐) said receiving a final general assembly floor vote was likely the greatest obstacle facing legislation.
"The Judiciary and Organic Laws and Statutes Committee should not be a problem," he said, adding that DPP Legislator Yu Mei-nu (尤美女) , who co-sponsered one of the proposed amendements, serves as committee coconvener, practically guaranteeing hearings and a vote.
Nine out the committee's 12 members have expressed support for legalization, Pridewatch said.
The groups expressed support for Yu's proposal, saying that they had been consulted extensively on draft language, which would expand the Civil Code's definition of marriage to guarantee equal rights for same-sex couples.
"We feel this will achieve full equality, while minimizing the shock to the full body of law," Awakening Foundation secretary-general Lin Shih-fang (林實芳) said, contrasting Yu's bill with the NPP's proposal to delete every reference to "a man and a woman" in the law in favor of "both sides."
Comments will be moderated. Keep comments relevant to the article. Remarks containing abusive and obscene language, personal attacks of any kind or promotion will be removed and the user banned. Final decision will be at the discretion of the Taipei Times.