Foundation calls for end to corporal punishment
IN NAME ONLY: Physical punishment in elementary and junior-high schools has seen a resurgence, although it has been banned since 2006, a foundation poll showed
The Humanistic Education Foundation yesterday called for the enforcement of zero corporal punishment on campus and urged the Ministry of Education to amend regulations to end all physical and discriminatory punishments of students.
The foundation released the results of a survey, which asked students if they had been subjected to corporal punishment over the past schoolyear.
The poll showed that physical punishment has seen a resurgence, even though it has been banned after the Educational Fundamental Act (教育基本法) was amended in 2006.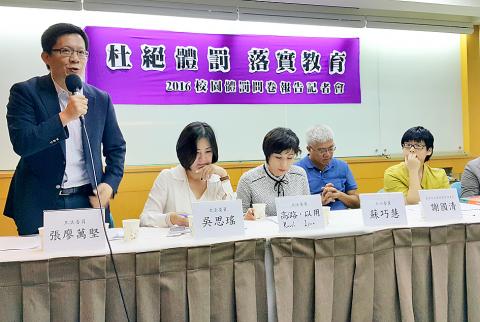 Democratic Progressive Party Legislator Chang Liao Wan-chien yesterday speaks at a news conference held by the Humanistic Education Foundation in Taipei, which released a survey showing that elementary and junior-high teachers often punish students by canceling their breaks between classes.
Photo: CNA
The survey found that 27.8 percent of elementary-school students and 35.4 percent of junior-high-school students had been subjected to corporal punishment. The figures were up 3.7 percentage points and 4.8 percentage points respectively compared with the last survey the foundation conducted in 2012.
A majority — 56 percent of elementary-school students and 69 percent of junior-high students — said they were punished because of failing grades.
The survey found that 10.5 percent of elementary-school students and 20.6 percent of junior-high students were made to run laps, squat and stand in repetition or perform alternating split squat jumps, duck walk or frog jumps as punishment.
Approximately 8.3 percent of elementary-school students and 8.7 percent of junior-high students said they had been beaten by a school faculty member, while 80.9 percent of elementary-school students and 41.8 percent of junior-high students were denied recess.
Of the students who were denied recess, 1.6 percent, or about 19,000 students, were barred from using the bathroom, while 16.9 percent, or 210,000 students, were allowed to go only at certain times.
Other punishments the foundation said should be abolished included "collateral" punishment, which punishes entire classes because of something one or a few students have done; letters of repentance, which the foundation said are often "forced repentance" based on teachers' — rather than students' — thinking, and making students sit in designated "special seats," which amounts to public humiliation.
Democratic Progressive Party (DPP) Legislator Rosalia Wu (吳思瑤) said that of the 619 teachers who had meted out physical punishments since 2012, only seven had been fired and one suspended; the others had received only minor punishments, such as demerits.
Wu called on the ministry to use guidelines on the disposition of unfit teachers to deal with teachers that give students physical punishments.
She said that she would continue pressuring the ministry to push for legal amendments, thereby eliminating corporal punishment on campus.
The 12-year national education system took effect three years ago, but students' academic burden has not been alleviated with the implementation of high-school entrance examinations, Taiwan Parents' Educational Alliance president Hsieh Kuo-ching (謝國清) said, urging the government to launch an examination-free recruitment system soon.
Corporal punishment incites hatred and resentment in students and could give rise to suicidal tendencies, but teachers who have handed out physical punishments do not seem to have given thought to these problems, he said.
Physical punishment is an improper and barbaric style of teaching and the ministry has since banned the practice, Minister of Education Pan Wen-chung (潘文忠) said.
Schools should educate students in a positive manner, Pan said, adding that the ministry would more clearly define the forms of punishments prohibited under regulations governing counseling and education methods in schools.
The number of school counselors have increased in recent years and they will assume an important role in implementing positive education methods, he said.
He called on local education authorities to guide schools in constructing a professional counseling network, thereby streamlining counseling efforts and promoting positive education.
Comments will be moderated. Keep comments relevant to the article. Remarks containing abusive and obscene language, personal attacks of any kind or promotion will be removed and the user banned. Final decision will be at the discretion of the Taipei Times.