Increase plant-breeding budget, lawmaker says
GLOBAL WARMING: As well as the extra money, farmers might also be able to grow plants in the winter that have previously been grown in other seasons, an expert said
The government should double the research and development budget for plant breeding so that the nation's farming sector can withstand the challenges brought by extreme weather, Democratic Progressive Party (DPP) Legislator Tsai Pei-hui (蔡培慧) said yesterday.
The appeal came after farmers suffered significant financial losses during five typhoons this year — Nepartak in July, Meranti, Malakas and Megi last month and Aere this month.
Those financial losses could increase after the Central Weather Bureau said that it could issue a sea alert for Typhoon Haima this morning, which strengthened yesterday afternoon and could bring significant rainfall to the east coast.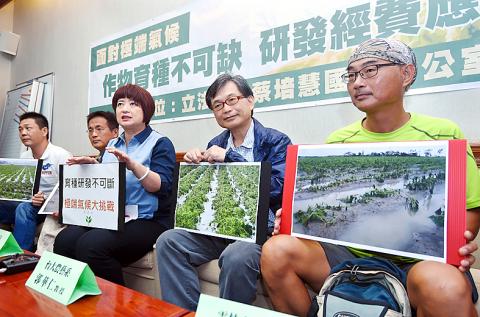 Legislator Tsai Pei-hui, third left, accompanied by farmers invited to share their experiences, holds a news conference at the legislature in Taipei yesterday, calling on the government to introduce more measures to address the risk of extreme weather events.
Photo: Liao Chen-huei, Taipei Times
"Whenever we talk about the impact of the extreme weather on agriculture, we often talk about the necessity of establishing an insurance system," Tsai said. "However, insurance should be used to compensate farmers' losses in the short term. The fundamental solution is to tackle the challenges at source, which begins with the budget for plant breeding."
Tsai said a government project should focus on breeding new grains and other crops that are able to survive when the nation is hit by severe drought, excessive rainfall or abnormally low temperatures. The budget used to fund the project should be twice as much as it is now, she said.
Tsai invited three farmers from Yunlin County and Kaohsiung, who had lost nearly all of their crops when Meranti and Malakas hit the nation in the middle of the last month, to talk about their plight at a news conference in Taipei.
They highlighted the urgency of having sufficient germplasm for plant breeding, as it is key to ensure that farming can be restarted quickly after natural disasters and produce reliable crops for exports.
"Plant breeding is like making the horse stance, the basic move you have to master when you learn kung fu," Huang Chi-yao (黃祈堯) said.
Warren Kuo (郭華仁) of National Taiwan University's Department of Agronomy suggested a change in crop-planting schedule in addition to efforts to breed new grains.
Farmers might be able to grow plants in winter that have previously been grown in other seasons, he said.
The functions of the Council of Agriculture's research stations should also be reformed, Kuo said.
"They should focus on researching and developing new crop varieties, rather than taking foreign germplasm from private laboratories for plant breeding," he said. "These research stations are not short of plant-breeding specialists, but they are short of professional laboratory technicians. They cannot keep hiring contractors to do the work of technicians or the experience will not be passed on," he said.
Council of Agriculture Deputy Minister Chen Chi-chung (陳吉仲) said that the budget allocated for plant breeding decreased from about NT$186 million (US$5.87 million) in 2014 to about NT$150 million this year.
Funding for breeding new grain has declined from NT$25 million in 2014 to NT$17 million this year.
He promised to raise the budget to the level in 2014, adding that it could exceed NT$186 million after a review of the projects to be undertaken at research stations next year.
Comments will be moderated. Keep comments relevant to the article. Remarks containing abusive and obscene language, personal attacks of any kind or promotion will be removed and the user banned. Final decision will be at the discretion of the Taipei Times.