Line artist seeks to inspire
A Hsinchu man with autism who designed stickers for mobile messaging app Line said that he hopes his story inspires other disadvantaged people.
The man, who uses the moniker A-bin (阿彬), 31, was struggling to find employment until this year, when he joined the Chinese Industrial Innovation Association's program to train people to design graphic art for chat apps, said his mother, surnamed Liu (柳).
Liu said her son learned graphic design and programming at the classes and excelled in the work.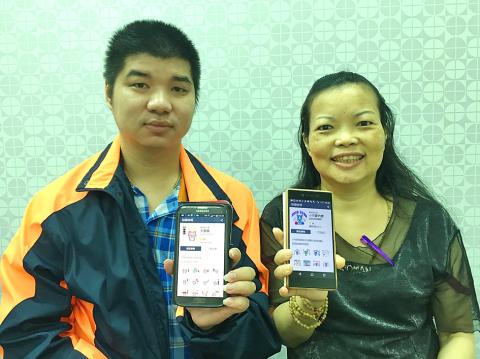 Line sticker designer A-bin holds up a smartphone in Hsinchu County on Tuesday last week showing his work.
Photo: Wang Chun-chieh, Taipei Times
Soon after he graduated from the program in August, Line Corp approved A Bin's "heavenly cats" creation for sale at its online store.
Liu said A-bin was introspective and shy as a child and was subjected to abuse by his father, who frequently beat him and on occasion humiliated him by stripping him nude in public.
A-bin said that his high-school classmates once burned him with a lighter during sleep time at school, while in his third year in senior high he tried to commit suicide by slitting his wrist in the bathroom at home, but his mother intervened.
Liu said A-bin's suicide attempt was the wake-up call she needed to seek professional help for her son.
A psychiatrist diagnosed A-bin with autism and schizophrenia and prescribed medication to control visual and auditory hallucinations.
Liu quit her job when A-bin graduated from senior high school to take care of him and she had a lot of trouble making ends meet, until A-bin's enrollment in the program finally led to a source of income, she said.
According to the Chinese Industrial Innovation Association, A-bin initially avoided all contact in his classes and instructors had to relay their messages through Liu.
However, A-bin's instructors and classmates took note of his obvious interest in comics and drawing and by engaging him in those topics they began to have meaningful interactions with him, the association said.
A-bin was a diligent student and his creations were the first in his class to be approved for sales by Line, which happened soon after he finished the classes, it said.
Sales of his stickers have been promising so far, the association said.
A-bin said his childhood dream was to become a graphics artist and the gray cat character he created for his stickers is a representation of himself as a shy person who had once been lost.
With the help of his mother and courage he had found himself through his creations, he has left "the silent world" behind, A-bin said, adding that he hopes his story can be an inspiration to other disadvantaged people.
A-bin is in the process of designing a second batch of stickers for Line.
Comments will be moderated. Keep comments relevant to the article. Remarks containing abusive and obscene language, personal attacks of any kind or promotion will be removed and the user banned. Final decision will be at the discretion of the Taipei Times.