Hsu Tzong-li's opinions his own: MAC
GOOD COMMUNICATION: Minister Katharine Chang said there have always been viable channels of cross-strait communication, which should be used to solve issues
The Mainland Affairs Council (MAC) yesterday issued a news release reiterating the government's cross-strait policy after former grand justice Hsu Tzong-li (許宗力) on Thursday said that Taiwan-China relations are a "special state-to-state" relationship.
Hsu made the remarks during a confirmation hearing at the Legislative Yuan in Taipei for his nomination as Judicial Yuan president.
Hsu said his interpretation is "friendly" to China, similar to the relationship between West and East Germany, and is different from the Republic of China (ROC) that former president Ma Ying-jeou (馬英九) has envisioned, which claims sovereignty over China and "Outer Mongolia," which is an independent nation.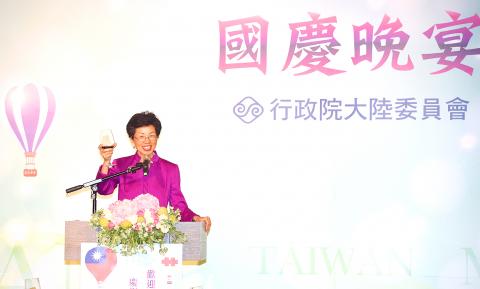 Mainland Affairs Council Minister Katharine Chang raises her glass at a banquet at the Regent Taipei on Sunday to greet guests from Hong Kong and Macau visiting Taiwan to celebrate Double Ten National Day
Photo: Peter Lo, Taipei Times
In the news release, the council highlighted that Hsu himself said at the session that the opinions he voiced concerning the cross-strait relationship were solely his own.
"The government will — based on President Tsai Ing-wen's (蔡英文) inauguration speech and the policies and aims she expounded on at the Double Ten National Day ceremony — continue to handle cross-strait affairs and promote peaceful and stable cross-strait development as per the ROC Constitution, the Act Governing Relations Between the People of the Taiwan Area and the Mainland Area (臺灣地區與大陸地區人民關係條例) and other related legislation," the statement said.
Meanwhile, on the sidelines of an activity promoting young students' understanding of cross-strait issues, reporters asked council Minister Katharine Chang (張小月) about a possible meeting between Chinese Nationalist Party (KMT) Chairwoman Hung Hsiu-chu (洪秀柱) and Chinese President Xi Jinping (習近平), and whether she thinks it would help improve cross-strait ties.
Chang said that there have always been good mechanisms and channels of communication between the two sides of the Taiwan Strait.
"There are hotline telephones on both my and China's Taiwan Affairs Office Minister Zhang Zhijun's (張志軍) desks," she said, adding that both sides should return to existing mechanisms for communication and exchanges to promote cross-strait peace and stability, and the welfare of people on both sides.
"As the two sides have different views and stand on different positions on certain issues, negotiation and conversation are even more necessary in order for the problems to be resolved," Chang said.
Comments will be moderated. Keep comments relevant to the article. Remarks containing abusive and obscene language, personal attacks of any kind or promotion will be removed and the user banned. Final decision will be at the discretion of the Taipei Times.