Two fire rescue dogs freed from Taoyuan airport
Two National Fire Agency rescue dogs that were detained at Taiwan Taoyuan International Airport on Tuesday were yesterday allowed to pass through customs on the condition that they are to be kept in quarantine for 21 days, the Council of Agriculture's Bureau of Animal and Plant Health Inspection and Quarantine said.
According to the agency, the dogs and their handlers were returning to Taiwan from a cooperative training program in Germany, but the dogs were detained because the handlers failed to obtain quarantine papers at their point of departure.
"We reminded the handlers to obtain the papers, but the handlers said that the dogs' cages did not comply with the local regulations and were changed, during which time they forgot to obtain the documents," the agency said.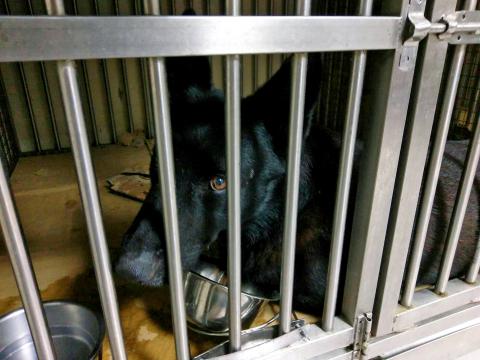 A rescue dog is detained at Taiwan Taoyuan International Airport on Wednesday after its handler failed to provide the required quarantine documents.
Photo: CNA, provided by the Council of Agriculture's Bureau of Animal and Plant Health Inspection and Quarantine
The bureau's Hsinchu branch said that the handlers had shouted at bureau personnel, saying they were "too busy" to obtain the correct documentation.
Bureau officials said that there was an implied threat when the handlers asked who would "shoulder the responsibility" if anything happened to the "government's dogs."
The normal procedure for checking dogs into Taiwan takes 30 minutes, but due to the handlers' uncooperative attitude, it took one hour, bureau officials said, adding that the dogs were in "perfect health" while they were detained at the airport.
Bureau director-general Huang Te-chang said that the bureau contacted the veterinary clinic that the dogs had visited prior to returning to Taiwan in hopes that the veterinarian would cooperate and provide official papers showing that the dogs had been checked for diseases.
However, Huang said that the official response from Germany was that they were unwilling to help as they did not have the dogs on-site.
As per regulations, the dogs would normally be kept under quarantine at the airport for 21 days.
However, upon receiving bureau approval, the agency can see to the quarantine of the dogs themselves, while the bureau would send personnel for periodic checkups, the bureau said, adding that the dogs are to be kept under quarantine in Nantou County's Jhushan Township (竹山).
The bureau's decision to release the dogs came after Internet rumors suggesting the dogs would be put down sparked a public uproar.
Bureau officials said that they suspected the handlers started the rumors.
Additional reporting by CNA
Comments will be moderated. Keep comments relevant to the article. Remarks containing abusive and obscene language, personal attacks of any kind or promotion will be removed and the user banned. Final decision will be at the discretion of the Taipei Times.