Defense ministry confirms new agency
NATIONAL FOCUS: The National Defense technology division is to facilitate public-private cooperation and eliminate the duplication of effort at a research institute
The Ministry of National Defense yesterday confirmed that it is to create a military technology research establishment next year, saying that it would be similar to the US Defense Advanced Research Projects Agency (DARPA).
Deputy Minister of National Defense Lee Hsi-ming (李喜明) first mentioned the program at the recent Taiwan-US Defense Industry Conference in Williamsburg, Virginia.
Yu Yu-tang (游玉堂), head of the Technology Planning Division of the ministry's Department of Resources Planning, yesterday said that the division would be remodeled and upgraded to serve the national technology development role.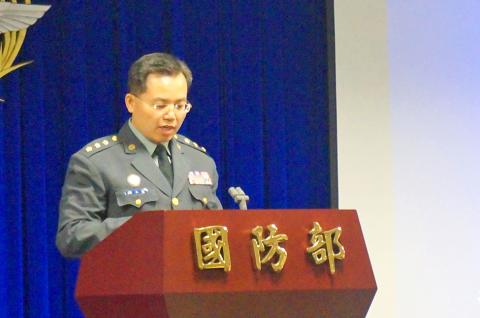 Ministry of National Defense official Yu Yu-tang, who heads the Department of Resources Planning's Technology Planning Division, speaks at a news conference in Taipei yesterday.
Photo: Tu Chu-min, Taipei Times
The division is to be remodeled as the National Defense Technology Division on Jan. 1 next year with a budget of NT$3 billion (US$94.9 million), and it is to be upgraded at some point to become the National Defense Technology Office, a special establishment at the departmental level, Yu said.
The division's operations are to be modeled after DARPA, especially with regard to facilitating cooperation between the public and private sectors, eliminating duplication of effort and evaluating work at the National Chungshan Institute of Science and Technology, Yu said.
"In contrast with the division's current practice of having a military officer heading the unit, it is to have a civilian with a doctoral degree in charge after the rebranding, with a major general or rear admiral as its deputy head," Yu said.
A total of 23 managers are to be recruited, with salaries competitive with those in the private sector, while employment guidelines are to be completed in the first half of next year and recruitment is to begin in about October next year, Yu said.
In response to questions comparing the proposed establishment with Taiwan Goal Co — a publicly funded arms firm that was dissolved in March 2008 — Yu said an official apparatus cannot be compared with a private arms company, adding that the operations of the planned agency would be subject to legislative oversight.
Taiwan Goal was dissolved by the Ministry of Economic Affairs two months following its launch after Chinese Nationalist Party (KMT) lawmakers said it was inappropriate for the government to be involved in the arms trade.
According to information from the ministry, the National Defense Technology Development and Application Committee is to be upgraded and renamed as the National Defense Technology Development Committee.
Comments will be moderated. Keep comments relevant to the article. Remarks containing abusive and obscene language, personal attacks of any kind or promotion will be removed and the user banned. Final decision will be at the discretion of the Taipei Times.