National Day marked by protests
The National Day ceremony yesterday was marked by scattered protests, with both pro-independence and pro-unification advocates condemning the Democratic Progressive Party (DPP) administration's observation of the day.
"Taiwan is Taiwan," shouted Taiwan Solidarity Union (TSU) members protesting outside the ceremony site, calling for the rejection of the "Republic of China's" National Day.
National Day has nothing to do with Taiwan because it marks the anniversary of the Wuchang Uprising, which culminated in the founding of the Republic of China, TSU Department of Youth Affairs director Chang Chao-lin (張兆林) said, adding that the day should only be celebrated by the Chinese Nationalist Party (KMT), which traces its roots to the uprising, rather than by Taiwan as a whole.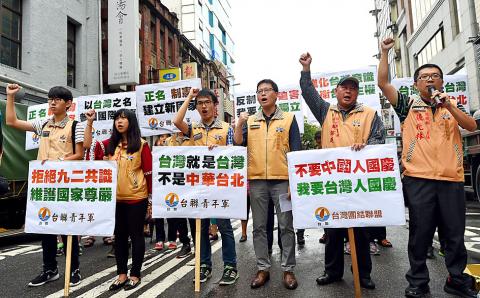 Members of the Taiwan Solidarity Union yesterday protest near the venue of the National Day ceremony in Taipei.
Photo: Chien Jung-fong, Taipei Times
The TSU members also handed out stickers stating that "Taiwan is Taiwan," and advocating that "Taiwan" and not "Chinese Taipei" should be used to refer to the nation in international competitions.
Separately, the Northbird Singing Revolution band, the Free Taiwan Party, the Alliance of Referendum for Taiwan, the Indigenous Youth Front and other pro-independence groups gathered in front of nearby Jingfumen (景福門) to play Taiwanese folk music that criticized the Republic of China for being a "foreign regime" which has oppressed the nation's diverse cultures and calling for the DPP administration to break with past KMT precedent.
Imposed National Day celebrations have been part of the KMT's past throttling of the nation's original cultures, the Northbird Signing Revolution band said, calling for the DPP government to stop holding events that exalt Chinese culture.
Meanwhile, a member of the the pro-unification Concentric Patriotism Association interrupted Legislative Speaker Su Jia-chyuan (蘇嘉全) when he began his official remarks.
The man shouted out that because President Tsai Ing-wen (蔡英文) is not willing to recognize the Republic of China, she should not serve as president or have audience members bow to a portrait of founding father Sun Yat-sen (孫逸仙).
While many in the audience demanded that police officers escort the man away, his nearby supporters soon joined in a chant of "Long live the Republic of China."
"What kind of National Day are independence advocates participating in?" another Concentric Patriotism Association member shouted, while a third shouted: "Independence advocate parasites should go to hell," before police officers eventually escorted them away after attempts to ask them to be quiet failed.
Additional reporting by Abraham Gerber and CNA
Comments will be moderated. Keep comments relevant to the article. Remarks containing abusive and obscene language, personal attacks of any kind or promotion will be removed and the user banned. Final decision will be at the discretion of the Taipei Times.