Artists help revitalize Santiao Village
PRICELESS TREASURES: The township was able to achieve outstanding results with limited funds thanks to local artists and residents, the Sijhou Township Office said
A group of artists has helped breathe new life into Changhua County's Santiao Village (三條), despite the Sijhou Township (溪州) Office being denied NT$7 million (US$221,025) it had requested to develop culture and tourism in the village.
Wu Yin-ning (吳音寧), secretary-general of the Sijhou Township Office, said the township representative council's decision to deny the office's financial request for artistic upgrades in its June budget placed the office in a difficult financial position.
Developing the cultural tourism site of Santiao was a trial that tested the office's ability to use limited funds to accomplish a greater goal, Wu said.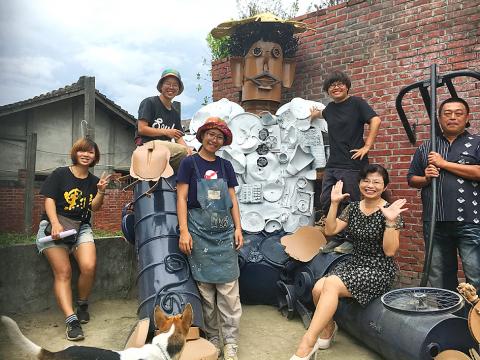 Students from Tainan National University of Arts pose for a photograph with Chinese calligrapher Yen Kuo-lung, right, and Santiao Elementary School principal Lin Shu-chen, second right, next to their Siao San the Farmer art installation in Changhua County's Sijhou Township on Sept. 3.
Photo: Yen Hung-chun, Taipei Times
The office commissioned the Cizaipijun Cultural Association to write a proposal, which obtained NT$350,000 from the Ministry of Culture, adding that the office invited Tainan National University of Arts students Chen Chia-hui (陳佳慧), Su Yu-lan (蘇玉蘭) and Chiu Pin-yun (邱品芸), horticulturalist Hsieh Shih-lung (謝釋龍) and Chinese calligrapher Yen Kuo-lung (嚴國隆) to live in Santiao for three months.
"The artists created works of art and calligraphy pieces to decorate the village and helped breathe new life into the village," Wu said.
Wu said the township achieved astounding results with limited funds thanks to aid from local artists, as well as Santiao Mayor Liao Ching-fu (廖清福), who asked residents to cooperate with the project.
Residents helped clean different sites for the artists, Wu said, adding that they also provided food and drink.
Citing a seated figure of Siao San the Farmer (巨農小三), art student Chen said they wanted to highlight that even with recycled goods, young farmers returning to rural areas were able to create new things.
The township thanked the students, artists and Santiao residents for their dedication to the project, Sijhou Mayor Huang Sheng-lu (黃盛祿) said.
"The funds were limited, and in other townships it would not be enough for a fireworks display," Huang said, adding that the artists and students used what was available to them and created priceless treasures that the township can truly call its own.
The pieces went on display early last month and have drawn many visitors to the township, Huang said, adding that many of the visitors said that the art gave new life to the village.
Comments will be moderated. Keep comments relevant to the article. Remarks containing abusive and obscene language, personal attacks of any kind or promotion will be removed and the user banned. Final decision will be at the discretion of the Taipei Times.