INTERVIEW: NTU's Yang cautious on doctors' inclusion in labor act
As the Ministry of Health and Welfare considers extending the Labor Standards Act to cover doctors as a solution to the shortage of medical staff in Taiwan, National Taiwan University president Yang Pan-chyr, who is also a doctor, said in an interview with Liberty Times (the sister newspaper of the Taipei Times) reporter Jennifer Huang that amending the act without an established system in place might cause the situation to deteriorate, making doctors and patients the victims
LT: What do you think are the most serious problems facing Taiwan's medical staff?
Yang Pan-chyr (楊泮池): Doctors are dissatisfied with their long work hours, the imbalance between work and leisure, the non-ideal wages-to-work ratio, lack of guarantees on occupational hazards and subsequent lawsuits.
To make changes to all these things, our medical field truly needs some reforms.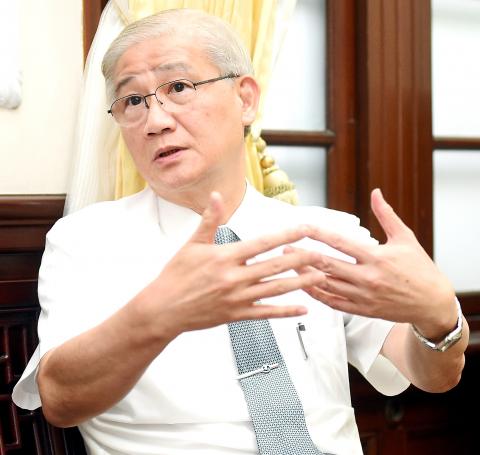 National Taiwan University president Yang Pan-chyr gestures during an interview with the Taipei Times' sister newspaper, the Liberty Times, on Sept 15.
Photo: Chu Pei-hsiung, Taipei Times
I support the motion to cut down on the 88-hour workweek that is currently employed. Doctors should not have to work such long hours, as tiredness diminishes the quality of medical services. There really is a need for more reasonable work hours as well as work environment regulations.
According to a study on work hours for Taiwan's 40,000 medical staff, surgeons had the highest number of work hours — at a maximum of 15 hours per day (based on a five-day workweek) — followed by general medicine, obstetrics and gynecology, general pediatrics and emergency room doctors.
All five divisions are important medical fields, and all five are facing severe personnel shortages. These divisions are all high-stress and high-risk, both in terms of their job and in terms of legal troubles that come with the job.
Many doctors are more willing to transfer into low-risk divisions, such as cosmetic surgery.
Consequently, in all five fields, and more so in rural hospitals, people are working longer hours because of staff shortages.
LT: The plan to extend the Labor Standards Act (勞動基準法) to cover doctors was opposed by the Ministry of Health and Welfare and the Ministry of Labor during the former Chinese Nationalist Party (KMT) administration, yet now the KMT, as an opposition party, is looking to expedite the inclusion of doctors under the act. What changes to the medical environment are experts worried about?
Yang: The [planned] inclusion of doctors under the Labor Standards Act would not necessarily resolve the sweatshop conditions doctors are working under. Most problems should be resolved by fine-tuning existing measures, such as the National Health Insurance (NHI) program payout scheme, the establishment of a medical dispute law and occupational insurance for doctors.
If we are unable to attain solutions based on our problems, and also fail to plan for expansive set measures, then including doctors under the act would only serve to shorten doctors' work hours on paper while creating more problems.
The act's regulations on work hours are too uniform and do not take into consideration whether individuals are interns or visiting staff. If, for example, a resident doctor is eligible under the act, their workweek would be capped at 40 hours, with an average eight-hour day, or 12-hour maximum, and other limitations placed on them.
If doctors who attend to patients or perform surgery are limited to eight-hour workdays, the nation would see a serious impact on the quality of medical provisions.
A doctor's job is to save lives and treat illnesses; however, these things do not happen at fixed times. Imagine a doctor that is supposed to operate on two patients, but is forced to leave in the middle of the operation because they need to clock out of work; is the hospital going to have doctors take turns at the operation table?
Additionally, the reduced work hours for doctors would also see fewer people attended to. Will patients accept it if hospitals were to announce a decreased service capacity and ask patients to vacate their sick beds? The situation would also cause longer waiting times for patients, which would directly impact citizens' rights to receive medical treatment.
There is a time continuity in the vocation as doctors, and there are many characteristics, such as emergency situations or nighttime treatments, that have precluded doctors from being eligible under the act.
Past opposition of such a move was based on numerous factors that point to doctors' unsuitability.
LT: Once doctors are included under the Labor Standards Act, would attending physicians be on a rotating schedule? Would there be changes to the traditional doctor-patient relationship?
Yang: A large part of the opposition against doctors being included under the act is that it would cause changes to medical morality, medical education and the basic doctor-patient relationship.
Every medical student who takes the Hippocratic oath and becomes a doctor makes treating patients their first priority. Inclusion of doctors under the act would change the nature of that oath, making doctors contract workers who prioritize legally regulated contracts; this would be a negative impact for doctors.
Doctors and their patients have a strong relationship that is built on trust. A patient usually selects a trusted doctor — and often sticks to that choice — for their treatment. In turn, doctors have long-term and systematic knowledge of their patient's health and medical history.
By regulating doctors to a certain amount of hours at work, it would force doctors into a rotating schedule, leading to the situation where a pregnant woman who is used to seeing a certain doctor for her checkups would have to suddenly face a different doctor at midnight, holidays or if her water broke early.
I think that if doctors were forced into a rotating schedule, it would erode trust, a trust that is key to the relationship between doctor and patient.
TT: Ever since public transport drivers were covered by the Labor Standards Act, there have been complaints about an insufficient number of drivers. If doctors come under the act, more doctors would need to be hired to accommodate the shorter working hours. Would the restriction limiting the number of medical school students to 1,300 people annually need to be lifted? Consequently, would doctors' salaries go down, or would the cost of medical insurance and other patient-incurred expenses go up?
Yang: Undoubtedly the current number of doctors would be insufficient to maintain current levels of healthcare services if doctors come under the act and working hours are reduced. If the number of medical staff increases and the cost of health insurance does not increase, then naturally doctors would see their salaries or the resources at their disposal become affected. If doctors want to maintain their salaries, then of course health insurance costs would need to be increased. Failing that, we would need patients to pay for their treatments or purchase private health insurance. These are effects of the proposal that need to be taken into consideration.
However, the problem the industry faces now is not staff numbers, but the uneven distribution of staff.
There is one doctor for every 600 to 700 people in Taiwan, which looks good from an international perspective. If we add doctors to account for changes in the Labor Standards Act, we need to consider not only the quality of these doctors, but also how to deal with doctors who do not want to work in high-risk, high-stress areas like the emergency room or any of the other five major areas of medicine.
Doctors prefer to work in aesthetic surgery or other non-crucial, non-life saving areas of medicine, and are unwilling to work in remote, rural areas — the gap between urban and rural constituencies is getting worse. This represents a terrible, unnecessary waste of human and social resources.
TT: President Tsai Ing-wen's (蔡英文) stance on the issue of medical care is that doctors should be employed in a manner that safeguards their rights, just as would be done for laborers. She suggests that under the framework of Article 84.1 in the act, working hours should be decided in the spirit of an agreement decided between employer and employee, adaptable to the needs of the job's training and requirements.
However, current discussions about amending work hours lead to direct inclusion of doctors in the act and completely overlook the spirit of "adaptability." A lot of important details like whether to increase staff numbers and how to maintain the quality of doctors have not yet been established. What suggestions do you have in regard to protecting doctors' rights and maintaining the quality of service at the same time?
Yang: Doctors are calling for the protection of their labor rights, but actually there are many problems that can be solved much more quickly and more efficiently through the current system.
Unilaterally discussing inclusions in the Labor Standards Act is irresponsible, especially since it does not look at a complete set of measures. I am very concerned that society will be harmed by this before it sees any benefit. Working hours for doctors must be reasonably reduced, but should also be flexible. Discussions should center on overall weekly hours and reasonable regulations should be set based on this.
We could look at what the practice is in other countries like the US where doctors work a maximum of 78 to 80 hours per week, 160 hours every two weeks, or 320 hours every four weeks. This would allow space for flexibility in assigning work hours.
Aside from overtime pay, staff could work on their days off and make them up later on. Aside from this, it is the fundamental responsibility of doctors to consider the needs of their patients.
A lot of people therefore suggest that regulations outlined in the Medical Care Act (醫療法) regarding working hours, working environments and safeguards against occupational hazards should be made more from the perspective of medical industry professionals. In this way they can more effectively meet the needs of both the industry and professionals at the same time.
Even if doctors are covered by the act, it should be through flexible criteria formulated for the medical industry. It must allow doctors to make flexible adjustments based on the reality of their work situation. If it just forces doctors into the same rubric as laborers in regulating their working hours, then I am afraid it will not solve the problem of doctors being overworked. If that happens it will be a big blow to the healthcare system, and both doctors and patients will be unable to avoid the horrible results.
Translated by staff writers Jake Chung and William Hetherington
Comments will be moderated. Keep comments relevant to the article. Remarks containing abusive and obscene language, personal attacks of any kind or promotion will be removed and the user banned. Final decision will be at the discretion of the Taipei Times.