'Typhoon days' ill-defined: unions
STAND BY: Typhoon days are mandatory for schools and public employees, but some people wrongly assume that the closures also apply to private industry, a legislator said
Lax regulatory guidelines allowed many department stores to force sales clerks to work without extra pay during last week's typhoons, labor activists said yesterday, adding that the Labor Standards Act (勞動基準法) should be revised to give "typhoon days" the legal equivalency of a mandatory day off.
"We could understand if people were being asked to go work to keep hospitals or the Mass Rapid Transit (MRT) system operating, but people will not die if they cannot go to a department store, order pizza or see a movie during a typhoon. The people who do face danger are those who are being told to go to work," Youth Labor Union 95 director Chen Hsiao-wen (陳曉雯) said.
Typhoon days can be high revenue days for department stores, as people often go shopping when rain and winds prove less severe than expected.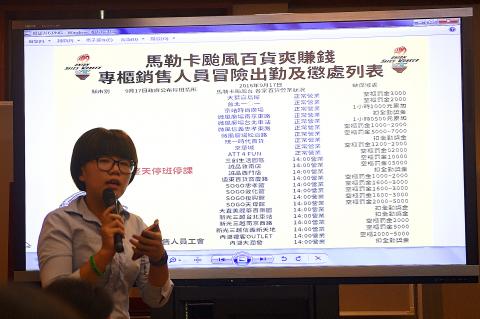 A woman yesterday displays a list of companies that punish employees for taking typhoon days off during a press conference in Taipei held by Democratic Progressive Party legislators Chung Kung-chao and Lin Ching-yi, and the 95 Youth Labor Union.
Photo: Chen Chih-chu, Taipei Times
Sales Clerk Union secretary Liao Yu-wen (廖郁雯) said that during last week's typhoons, many department stores kept normal opening hours even after local governments announced school and office closures.
Even stores that closed or delayed opening times required employees to be on stand by, an internal survey of union members said.
The same survey showed that sales clerks who refuse to work on typhoon days are generally subject fined about NT$1,000, while the vast majority of those who work receive no additional pay, she said.
"We were required to clock in by 12:30pm, only to be told 15 minutes later that we could go home, right when the wind was at it strongest," said a woman surnamed Lin (林), who said she works in Kaohsiung's Mega shopping center.
"When the government announces a typhoon day, a lot of workers mistakenly believe that this applies to them," Democratic Progressive Party Legislator Chung Kung-chao (鍾孔炤) said, adding that local governments' work stoppages are only mandatory for civil employees.
Private-sector employees are governed by regulatory guidelines which only mandate that employers "should not" dock workers who do not come in on typhoon days without mandating penalties for employers who do not comply, he said, adding that he has proposed amendments to the Labor Standards Act to define "typhoon days" as "mandatory days off," entitling those who work to an extra day's pay and a compensatory day off.
Comments will be moderated. Keep comments relevant to the article. Remarks containing abusive and obscene language, personal attacks of any kind or promotion will be removed and the user banned. Final decision will be at the discretion of the Taipei Times.